Community Healing Series/ Serie de sanación comunitaria with/con Gothess Jasmine
November 4, 2022 @ 1:00 pm

-

3:00 pm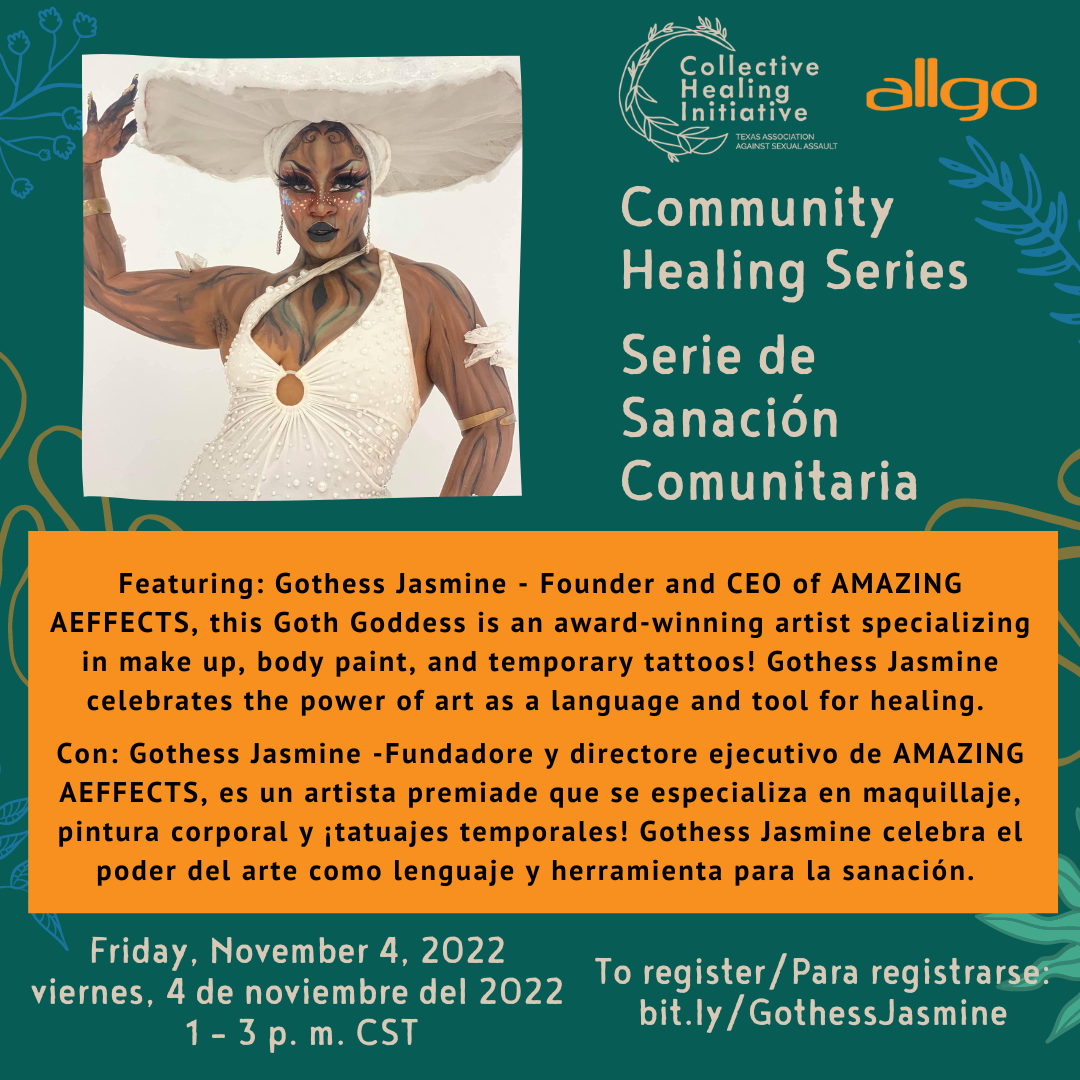 Gothess Jasmine
Founder and CEO of AMAZING AEFFECTS, this Goth Goddess is an award-winning artist specializing in make up, body paint, and temporary tattoos!
Prolific in the dark arts of seduction, this entity is a cast member of Austin's VANGUARD DRAG REVOLUTION, Sideshow, Die Felicia, and multiple casts all around Austin. They have been official artist at SXSW, ACL and Austin International Drag Fest. They are known for demanding crowds to honor them for their powerful stage presence and intimate performances.
Gothess Jasmine celebrates the power of art as a language and tool for healing. Gothess represents undervalued and underbooked performers and artists. They aim to inspire others to use artistic practices such as painting , story telling and visual performances as a means of radical self expression and spiritual healing. Through these artistic outlets, they intend to inspire people in a manner that transcends culture, language and ability.
Gothess Jasmine's Offering:
Body Art as Ancestral Connection with Gothess Jasmine:
Body art is prolific around the world and has been over the expanse of time. Ancient cultures, to present day, humans have used this ritualistic art form to store and express emotions and traditions. Theatrical productions, festivals, nightlife and even ceremonial practices are great reflections of human connection to ancestral practice as a means to express spiritual language. It seems that body art is truly a form of expression that transcends culture, language, and time. It has been and will continue to be used to unite us, celebrate us, and in turn heal us.
Join me Friday November 4th from 1-3 PM for a virtual body art practice to celebrate our ancestors and ourselves for overcoming challenges and to invoke healing through our shared expression.
We will embrace our inherent nature and use affordable, easy to access supplies or common household goods to practice our own forms of body art. Below you will find the suggested supplies.
Suggested Supplies:
– Cream Paint* (Strongly recommended)
– Any Old Makeup you have lying around
– Tape
– String, Floss, or Ribbon
– Clean sponge
– Tissue paper, Paper towels
– Turmeric (ground)
– Cornstarch
– Parchment paper
*Cream Paint can be purchased at any local store with a halloween department.
A PDF Print out will also be provided for this workshop. Do you have access to a printer?
If you do not have a printer, Please submit your mailing address to receive a delivery of the print outs for this workshop.