Community Healing Series with Scout from Wild Awake Wellness
November 7, 2022 @ 6:30 pm

-

8:30 pm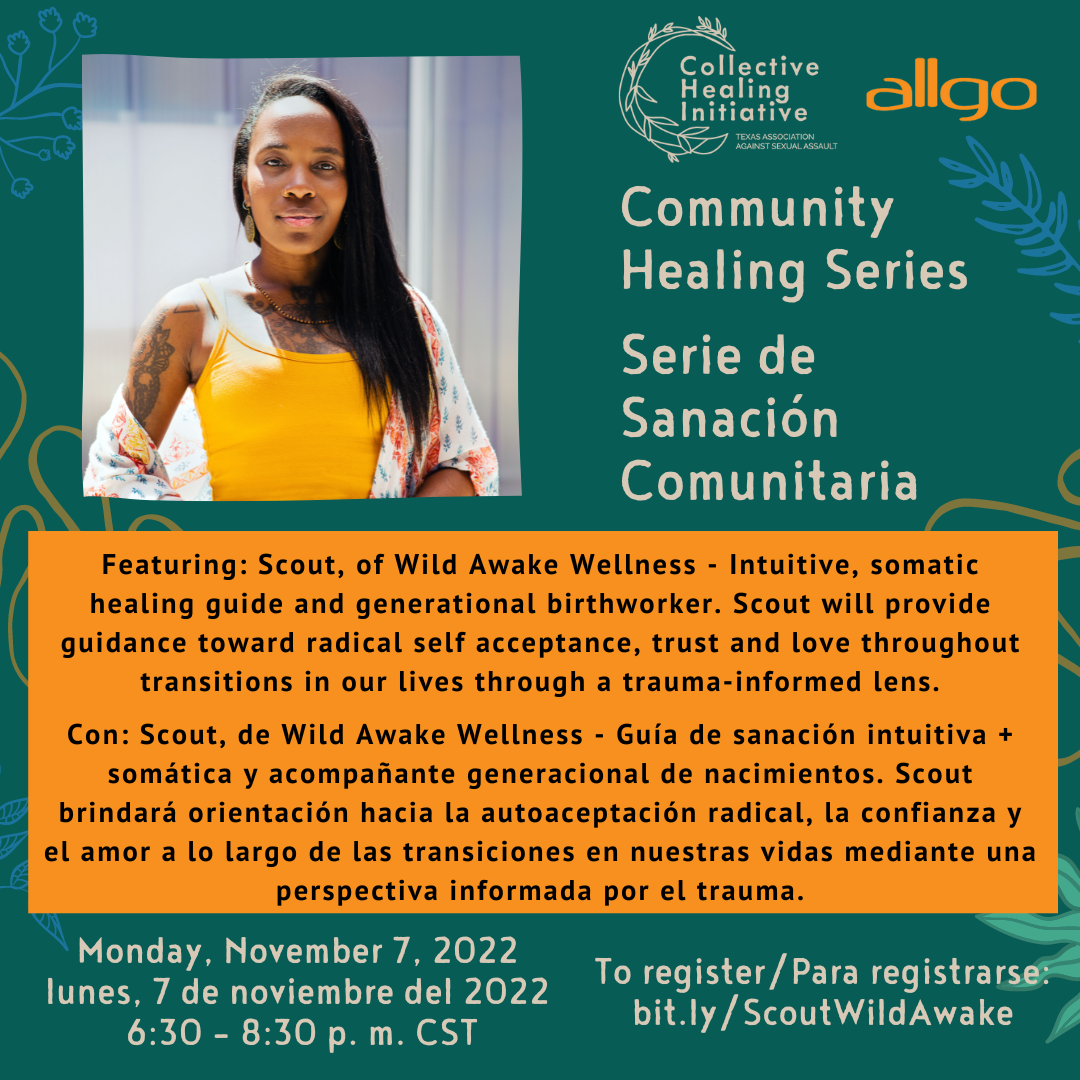 Scout is an intuitive + somatic healing guide and generational birthworker from the indigenous lands of the Apache and Kickapoo (post colonized: Austin, TX). She guides doula's, healers and ethically non-monogamous lovers toward radical self acceptance, trust and love throughout transitions in their life through a trauma informed lens. Scout is passionate about alchemizing + ritualizing life experiences, emotions and our innate intuitive wisdom into empowerment and a deep sense of self trust – because she truly believes in rebirthing, reparenting and reclaiming our wellness as our birthright and as a form of activism and social justice. Scout's resourced connection ushers various soul types through discomfort and creates a space for them to arrive to authenticity in their bodies to live WILD + AWAKE. Working with marginalized communities to ensure their birthright of awareness and wellness is truly ancestral work and at the cornerstone of Scout's community engagement as a Black, Queer, cis woman.
"Poses + Poems"
a somatic practice for QPOC Liberation
"Poetry is where language goes to dance"
Words, movement, artistic expression and the body have an intimate, somatic and even neurological link. Identifying how we feel, where we are in our process and learning to express and emote that in creative ways has historically been an integral part of the Queer and POC lens of activism and wellness.
In this wellness space, Scout will be facilitating a trauma informed container to travel through a yin + restorative asana practice accompanied by poetry readings and closing with a reflective journaling session, sound bath and community share.
About the practice: This session will feature a complimenting combination of both yin and restorative yoga poses. The movement in this class is slow, subtle and includes holding poses for a handful of minutes while either stretching, or resting the body upon support. Yin yoga stretches the connective tissue in the body allowing us to take up more space and gently approach any discomfort that comes along somatically. Restorative yoga has a focus on releasing tension and resting the muscles on props and pillows comfortably to invite nervous system regulation and promote healing.
About the poetry: As we rest our bodies in these poses, I use the sound and tone of my voice to provide an attuned poetry reading. These poems are specifically curated for each session to encourage reflection, emotional processing and curiosity. Poems in this specific session will be comprised of works from QPOC poets. Resources and authors will be provided.
Reflection + Sound Bath: During the asana practice we will have pauses for journaling and even writing your own poems. The session will conclude with subtle breathwork, savasana and a sound bath. We will also create space for community share.