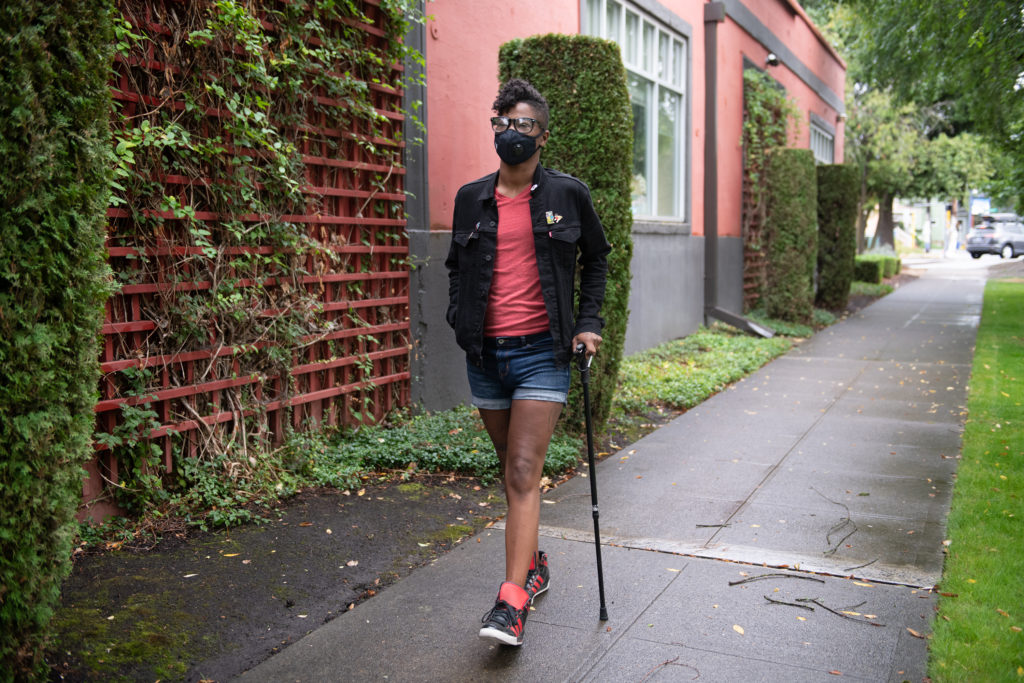 Photo featuring a Black non-binary person by Chona Kasinger for Disabled and Here, a publisher of free stock photos featuring and celebrating disabled BIPOC in the Pacific Northwest.
By Bryan Garcia
As QPOC, we are part of a community that is particularly vulnerable to the health risks and economic impact of the virus. This is due to higher rates of tobacco use than that of the general population, higher rates of living with HIV and cancer which compromises our immune system, and the discrimination that both LGBTQ+ and people of color folks face in health care settings that makes us hesitate when it is time to seek care. This is why it is so important to do what is in our hands to manage elevated stress and prioritize our mental health and emotional well-being at home in the healthiest ways possible. So much has happened in the last couple of months that have tested our strength and resilience and for many, rocked us to our very foundation. I've seen:
-Domestic violence survivors having to think more creatively than they ever thought they had to as they deal with having to be in close quarters with their abusers for an additional 8 hrs a day.
-Children who feel alone and neglected by their parents and many who are possibly experiencing abuse no longer having the refuge of their teachers and classmates to offer a sense of normalcy and put a positive spin on their day. Many also no longer have access to the only place that they were able to get a reliable hot meal.
-Asian/Pacific Islander communities that never wanted to be dragged into this being blamed and attacked for something they are not responsible for or have any control over.
-Government official's failure to notice the fear they are putting in Black people who risk being profiled and falsely targeted due to racist stereotypes. This is not taking into account how they have also fallen short on what they can be doing to protect Black lives from police violence.
If you or anyone you know has been affected in any way by this pandemic, here are some resources that might be able to meet one or a couple of your needs. allgo is working to keep this list updated during this time and are sure to add to it whenever we run into something we think can help our community. In addition to that, below are some specific hotlines that you can also reach out to if you are in crisis. Most are available 24/7, confidential and have access to language lines for interpretation support and all are free to use:
Crisis Text Line provides support for those affected by anxiety, depression, suicide, or problems at work or school via text message. Text HOME to 741741
National Domestic Violence Hotline helps victims, survivors of intimate partner violence. Call 1.800.799.7233 or chat with an advocate on their website.
Childhelp helps victims of child abuse through education & prevention programs.
Your Life Your Voice is a teen crisis hotline for folks dealing with family issues, addiction, bullying, and any other feeling you can think of.
LGBT National Help Center can connect you with emotional support for seniors, youth and anyone in between.
Despite all of the bad, ugly and heartbreaking things I have seen and heard, I have also witnessed how communities coming together to share resources and support one another also seems to be on the rise. I've noticed:
-Strangers helping their neighbors whose vehicles have broken down by asking what they need from the grocery store or to share their list so they can help make sure they are able to put food on the table.
-People becoming really good at active listening, waiting our turn and making sure our voice is heard on video conferencing calls.
-Folks becoming less wasteful. Challenging ourselves to be resourceful with the food we already have to avoid going out and potentially exposing others or ourselves to the virus.
-Driving less – I wonder how the earth is feeling with a little less pollution being blown into its face?
-People who live under the same roof being able to spend more quality time together and connecting in meaningful ways.
-Organizations and coalitions like Communities of Color United (which allgo is proud to be a part of) mobilizing communities to raise funds and provide direct cash assistance to those who need it, helping them stay afloat and their heads above water as long as possible.
So apart from relieving our immediate needs, what can we do to remain grounded? Many of us are experiencing very intense and strong emotions. For some that may look and feel like rage for the injustices that we experience, see and are coming to light that have always been going on. As a result, it can be so easy to quickly become drained and exhausted. Our bodies and minds need time to restore. It can also feel like we don't have enough time or the space to regenerate or that we no longer have access to the things that would normally have helped us recharge and ground ourselves. That leaves so many feeling powerless and confused about what we can do and how much we can do.
Whether someone is out protesting, having difficult, but courageous conversations with family and friends, sharing relief resources with others online, checking in with those who have been most affected, many still have to balance a job, school, responsibilities and make sure they have enough food to sustain themselves and pay for rent. It can feel like too much is being piled on.
Also, while many of us are engaging in work to support others, it is so important to not ignore the possibility that we may be the ones that need that same support. We want what we offer to be sustainable, so it is important to balance our needs with the needs of those we are supporting.
It is essential to offer yourself as much self compassion as you can. Some of us may be made to feel like our feelings are out of place and that we shouldn't be feeling the way we are right now. That couldn't be farther from the truth. Your feelings are valid. Your anger, frustration, worry, hurt is all valid. What is not okay is the hurt, inequality and discrimination you have had to endure as you walk through this life.
So what does it mean to feel grounded or ground ourselves? One way to understand this is by thinking of it as using mindfulness to help bring us back to the present moment when our heart starts racing out of nowhere, we are feeling triggered, or our thoughts are going all over the place.
At a recent health and wellness event, we talked about using breathing exercises to reset our central nervous system and decompress that can also be used as a way to ground ourselves. So just laying on the ground and doing some deep breathing can look like: Breathing in while counting to 4, then holding it for for a count of 4, followed by breathing out while counting to 4 and holding that for 4. Repeat that 4 times and notice how you feel.
Grounding ourselves can be challenging when we are in the middle of a crisis. This is why it can be helpful to practice grounding techniques when you are feeling calm and are in a good mood. Should the need come for you to pull one of these strategies out of your wellness toolbox, the chances for you to be able to put it into practice effectively are vastly improved. Remember that our journey to self care and healing requires work and patience, but it is worthwhile because you are worthwhile. Your future self will be grateful that you were able to keep them in mind.
Even though what may be going on out in the world or in our lives can feel overwhelming, allgo is committed to providing our communities opportunities to connect and support one another through hardships, but also to celebrate one another as we thrive and flourish. We are fortunate enough to be able to facilitate virtual gathering spaces where we can focus on navigating all of this and more.
We are looking forward to scheduling an upcoming event where we explore how yoga and meditation can be a tool that when practiced and incorporated into our self care routine, can have an incredibly grounding effect. We are so grateful to have the event led by Annelize Machado, a Certified Yoga Instructor with Hatha & Therapeutic Yoga training from The Studio Kailash Team. Make sure you like us on Facebook, follow us on Instagram, or sign up to our listserv for more information coming soon!