Austin Health Commons is grateful to connect and support families in the Eastern Crescent during these unprecedented times. Many neighbors continue to serve on the front lines of health care and retail. During this time of loss and change, we are here to provide support and be that bridge to resources. There are newer neighbors in the Eastern crescent blessed with financial wealth who wish to ensure that all people have the opportunity to live well and thrive.
Through our COVID-19 Relief Program and Truth, Racial Healing & Transformation Circles, we are connecting neighbors to one another, bolstering the internal resilience of our community.
We are assisting families with rent and utilities payments, food, supplies, logistical, and emotional support through our networks with neighborhood leaders, elders, local businesses, and community organizations.
If you need assistance, please complete our needs assessment below. A member of our team will contact once it is received.
Neighborhood Pop-Up Grocery Project
With the Neighborhood Pop-Up Grocery project Austin-area restaurants are now offering boxes of farm fresh fruits and veggies for sale. Produce boxes include 5-7 types of seasonal fruits and veggies – contents will vary each week depending on what's in season!
The Neighborhood Pop-Up Grocery project is a collaboration between Sustainable Food Center, Foodshed Investors and the City of Austin.
These pop-up groceries will be less crowded and require less travel than traditional full-service grocery stores, all the while keeping Austinites' food dollars in the local economy at a critically important time.
This solution makes it easier for Austinites to buy healthy food safely and affordably.
More information can be found here.
whatsinthemirror? Connect To Care Application
Whatsinthemirror? would like to thank you for applying for mental health services via our Connect to Care Program. Program funding will cover a consultation and up to 2 clinical session with one of our pre-screened therapist or a therapist of your choice, its totally up to you. In order to provide you with the best available resources we ask that you fill out the questions below.
https://docs.google.com/forms/d/1B9ZTa9ifnX5K5lSXr4yBqYfRGl51onAt0Pu8wszZ720/viewform?edit_requested=true
We have dry foods and partnered with Urban Roots to get fresh produce. If you have any folx in need that are LGTBQIA+, it is open to them. We are doing curbside pick up. Folx need to fill out a form first (selecting the items they want/need) and select a pick up time.
https://www.outyouth.org/qt-community-closet
We are currently taking applications for anyone that identifies as LGBTQIA+ for HEB gift cards. It is for folks of any age, and even for families with a youth that is LGBTQIA+.
City of Austin Offers Free Stay + Meals for Folks Exposed to COVID-19
Mishpocha Fund
this is a family-run foundation that's giving out $250 emergency assistance grants for people in travis county: https://www.mishpochafund.org/blank-page
folks could probably put Community of Color United For Racial Justice down as an org to "vouch" for them
Dress For Success
Virtual career counseling and styling appointments for any woman-identifying person who is seeking a job or better job: https://docs.google.com/forms/d/e/1FAIpQLSc7raI2kIxzDKaH5je0cfYmqscnrd4eM0wXLi_DhOx0iYdKDg/viewform?usp=sf_link
Their working resource list: https://austin.dressforsuccess.org/news/covid-19-helpful-resources-2/
Capital Idea
I'd like to share info about our online application process: Temporary Application Process , and about our virtual info sessions: CareerUp Info Sessions . Thank you! dlopez@capitalidea.org
Opportunities for Williamson & Burnet Counties:
Utility assistance program & Case Management program: dwheeler@owbc-tx.org
Texas RioGrande Legal Aid
TRLA is primarily providing legal advice by letter or phone until courts reopen: tsecrest@trla.org
ARCIL
ARCIL provides Independent Living Skills training to any person with any disability. One major service we provide is employment readiness: teri@arcil.com & rebecca@arcil.com
Skillpoint Alliance
FREE Training programs. Advanced Manufacturing – Certified production Tech (CPT) ONLINE ONLY (April 20th) and Pre-Apprentice Nurse Aide program (May) hybrid classroom instruction. We also cover training in Electrical, HVAC, and Plumbing. When students come into the classroom they will wear PPE. Weekly virtual info sessions performed. Registration forms may be found on our social media pages (Twitter/FaceBook)
512-729-4922
WBCO: Child Care
avallejo@opportunitiesforwbc.org
Workforce Solutions Capital Area: Jobs available – www.wfscapitalarea.com
roberto.perez@wfscapitalarea.com
Austin Community College
We are providing free month-long classes for jobseekers virtually. More info at Strategies for the Job Seeking Community katie.mcclendon@austincc.edu
Austin Community College
SEF-Student Emergency Fund assistance for ACC students. erika.alcala@austinc.edu
Austin ISD: Families as Partners
A Parent Engagement Program that supports 14 campuses in North Austin by building up parents' capacities to equip them to navigate the school system and help them reach their goals like employment and accessing higher education for themselves and their children. maria.rosas@austinisd.org https://familiesaspartners.org/
https://sites.google.com/austinisd.org/aisd-learning-at-home
https://sites.google.com/austinisd.org/aisd-learning-at-home/aisd-families-and-caregivers?authuser=0
Refugee Services of Texas
Refugee Services of Texas serves refugees, special immigrant visa holders, survivors of trafficking and U-visa holders. Our programs include; Community Wellness which provides counselling services (virtually currently), Employment, Social Adjustment Services and our Survivors of Trafficking Empowerment Program. All our services are free of course and we offer interpretation for all services.
Goodwill
Job search assistance, career training (CDL, phlebotomy, CNA, PC Tech)
Goodwill Workforce Advancement is still offering all of our services virtually: https://www.goodwillcentraltexas.org/education-job-training/find-a-job. The Goodwill Career & Technical Academy is also open and has served both in-person and virtually depending on safety regarding the pandemic: gctatraining.org
Foundation Communities
Remote Prosper Program services (college support services through the College Hub: https://foundcom.org/prosper-centers/college-hub/; free online tax prep: https://foundcom.org/prosper-centers/austin-tax-help/; financial coaching: https://foundcom.org/prosper-centers/financial-wellness/; health insurance enrollment: https://foundcom.org/prosper-centers/health-coverage/).
Ascend Life Skills
General support, especially for those presently incarcerated and recently released. Www.ascendlifeskills.com
COVID-19 Testing in Austin
For those who cannot sign up via email for the APH free (drive-up) testing, you can call this number to be registered via phone: (512) 972-5560, available M-F from 8-5pm or Sat 9-1pm. At this phone line, you are prompted to choose English or Spanish, Vietnamese and others. Also, it's for residents of Hays, Williamson, Travis and other counties. Then there are a few options. Option #2 is to sign up for the COVID-19 test. You have to provide name, birthdate, address and zipcode, and phone number. If you want results via email, you add email. Otherwise you call them back 4-5 days after your test to get results. Otherwise you can get an appointment for the test via email at https://covid19.austintexas.gov/s/?language=en_US
https://covid19.austintexas.gov/s/?language=es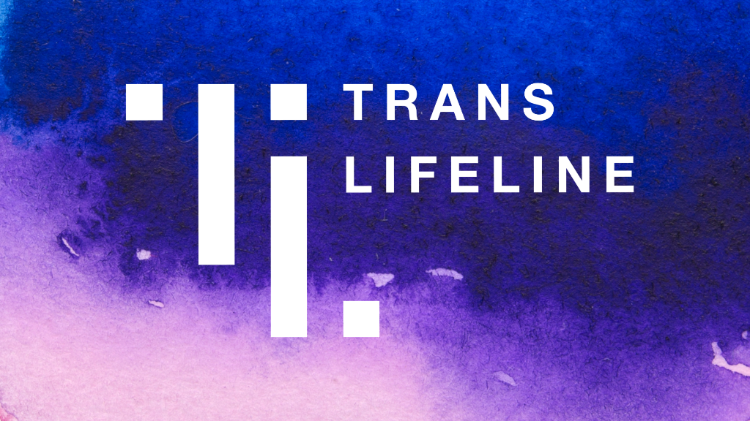 Hello! We are Trans Lifeline, a national peer support and crisis hotline for transgender people – and microgranting organization. Our hotline is operated by all transgender people, and this summer, we are launching a Spanish language extension that we wanted to make sure you knew about.
We would love to share some of our services that may be a helpful resource to your members and community:
Our hotline number is: 877-565-8860

Our Microgrants program offers two grants each month that cover fees for updating gender and name changes on immigration documents – and several more per month for US ID documents. You can learn more here.
Face Masks & Shields Available at allgo
Thanks to Bruce & Olive Co., allgo has 200 face masks for community. Please email at allgo@allgo.org if you're in need of a mask!
Thanks to a community member, we have face shields also available for folks! Please email at allgo@allgo.org!
$120,000 in Free Rides and So Much More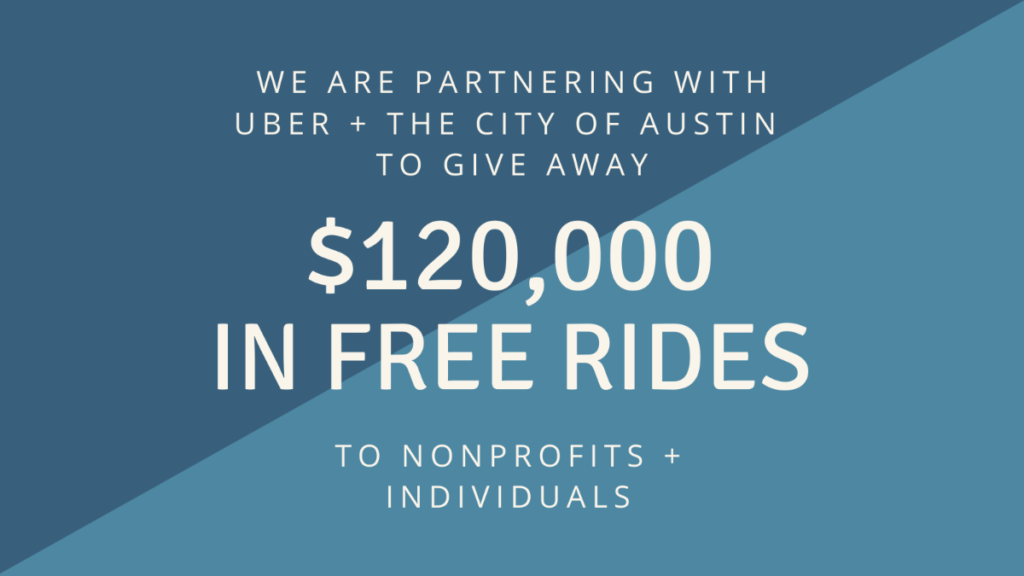 FarmShare Austin – Home Delivery & Accepting SNAP
Farmshare Austin is doing home delivery and they accept SNAP- their mainly doing produce with some shelf stable goods.
Goodwill Rental & Mortgage Assistance
Goodwill Central Texas has received RISE funding from the City and is currently taking applications to assist community members with rental and mortgage assistance.
EnglishApplication:https://docs.google.com/forms/d/e/1FAIpQLSc5W27EGzebFv7a92vDzC5cX1xXQzFNgY18EFlmtQWa027hkw/viewform
SpanishApplication:https://docs.google.com/forms/d/e/1FAIpQLSei0MhwfnBmgcu9yrUNplIR9GzNEGDsS82Mnn4Ca692eyC2Dg/viewform
For Houston residents: Low-Income Harris County Residents Can Apply For Free Legal Representation in Eviction Cases
HOUSTON (May 21, 2020)—The Supreme Court moratorium that postponed evictions for nonpayment of rent during the COVID-19 pandemic expired on May 18, and many Houstonians may now be at risk of eviction. Houston Volunteer Lawyers (HVL), a service of the Houston Bar Association, can help low-income individuals who may face eviction proceedings. HVL is expediting eligible eviction applications as court proceedings are expected to resume on June 1.
Applications can be submitted online at www.makejusticehappen.org/Apply-Online. An application may also be printed and emailed to info@hvlp.org or can be faxed to (713) 228-5826. Applicants should be prepared to give as much information about their case as possible, including an eviction case number, if available.
"HVL is trying to match as many eligible, low-income Houstonians as possible with volunteer attorneys," Bill Kroger, Houston Bar Association president, said. "And if you are seeking help with an eviction, please apply with HVL as quickly as possible, so that we can try to place your case and be mindful of deadlines. We are here to help, but can only do so if you reach out to us."
Visit the How to Get Help page at www.MakeJusticeHappen.org to learn more. A legal caseworker will notify each applicant if other documents are required. If an application is accepted, HVL will try to place the case with a volunteer attorney. Translators and other accommodation requests can be made by calling (713) 228-0735 or emailing info@hvlp.org.
For more information on this and other HVL services, please visit www.MakeJusticeHappen.org or call (713) 228-0735.
About Houston Volunteer Lawyers
Founded in 1981 by the Houston Bar Association, Houston Volunteer Lawyers (HVL) provides free, civil legal services to low-income residents of Harris County by linking qualified applicants with attorneys who volunteer their time on a pro bono basis. HVL is an equal opportunity agency, providing services to clients without regard to race, gender, disability, age, sexual orientation, national origin, or religion. For more information, please call (713) 228-0735 or visit www.makejusticehappen.org.
YMCA Food Support
The YMCA of Austin is hosting free distribution of fresh produce ( area residents will receive 20-pound boxes of fruits and vegetables via touchless drive-through or walk-up) beginning Tuesday, May 19, at the following locations: Distribution at the North Austin YMCA (1000 W. Rundberg Ln.) will begin Tuesdays at 9 a.m. and will continue on a first-come, first-served basis while supplies last. Drivers are asked to enter the parking lot from Mearns Meadow Drive.Distribution at the East Communities YMCA (5315 Ed Bluestein Blvd.) will begin Tuesdays at 10 a.m. and will continue on a first-come, first-served basis while supplies last. Drivers must enter the parking lot from the northbound lane of Ed Bluestein.

The weekly program will run each Tuesday through August.
he Coronavirus Aid, Relief and Economic Security (CARES) Act allocates funds to support individuals and businesses/organizations, including colleges and universities, affected by the pandemic and economic downturn. UT has received funds under the CARES Act and is working to provide emergency assistance to as many students as possible to help them meet their emergency financial needs during this challenging time.
Students who receive financial aid are eligible to apply for a maximum of $1500 (no additional documents required). Unfortunately, undocumented students cannot receive funds.
Student Emergency Services
Our office helps students and their families during difficult or emergency situations. Assistance includes outreach, advocacy, intervention, support, and referrals to relevant campus and community resources. Please note, our office does not provide counseling services.
You can best access services available through SES by completing an online form or emailing studentemergency@austin.utexas.edu.
Emergency situations include but are not limited to:
Missing Student
Family Emergency
Fire or Natural Disaster
Student Death (current or former)
Medical or Mental Health Concern
Academic difficulties due to crisis or emergency situations
Interpersonal Violence (stalking, harassment, physical and/or sexual assault)
studentemergency@austin.utexas.edu
Phone: 512-471-5017
Fax: 512-475-7942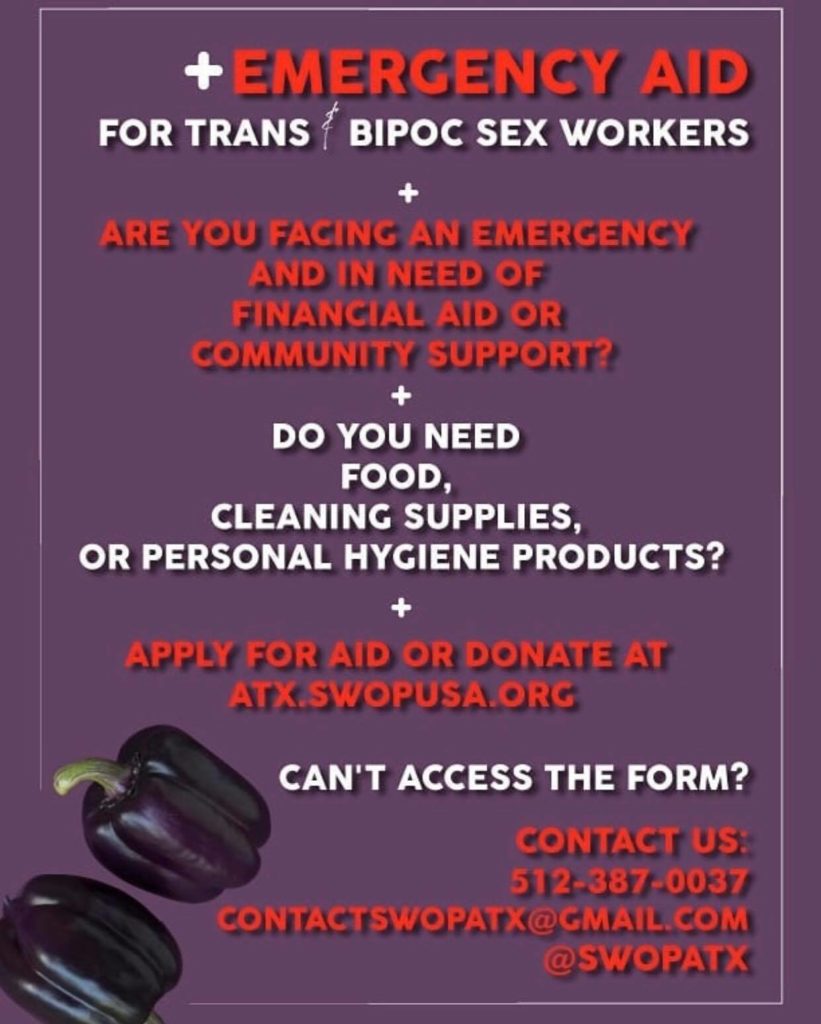 In response to increased xenophobia during the COVID-19 pandemic, Queer Woman Of Color Media Arts Project (QWOCMAP) is celebrating Pacific Islander & Asian Heritage Month with a FREE virtual screening program of short films on Saturday, May 16 at 7:00pm PST.
https://qwocmap.z2systems.com/np/clients/qwocmap/event.jsp?event=800
As part of our work to combat disinformation during COVID-19 and equip our communities with the tools they need, we have created a medically vetted series of Coronavirus information cards, in an expansive array of languages. Disinformation during COVID-19 is more than just fake news — it can mean life or death in terms of how people take care of themselves and their loved ones. We designed these cards to be shared widely through social media and encourage you to share them, but as a set. Sharing just one card out of the whole set could lead to confusion.
https://www.equalitylabs.org/covid19guide
How to Use: Click the cover of each set to be led to the downloadable PDF for this language and its accessible audiovisual file.
Apply to the GSC Crisis Fund!!
Don't forget that our crisis fund is live! If you are in crisis, please contact us at gsc@austin.utexas.edu and we'll set up an appointment to chat and fill out your application together.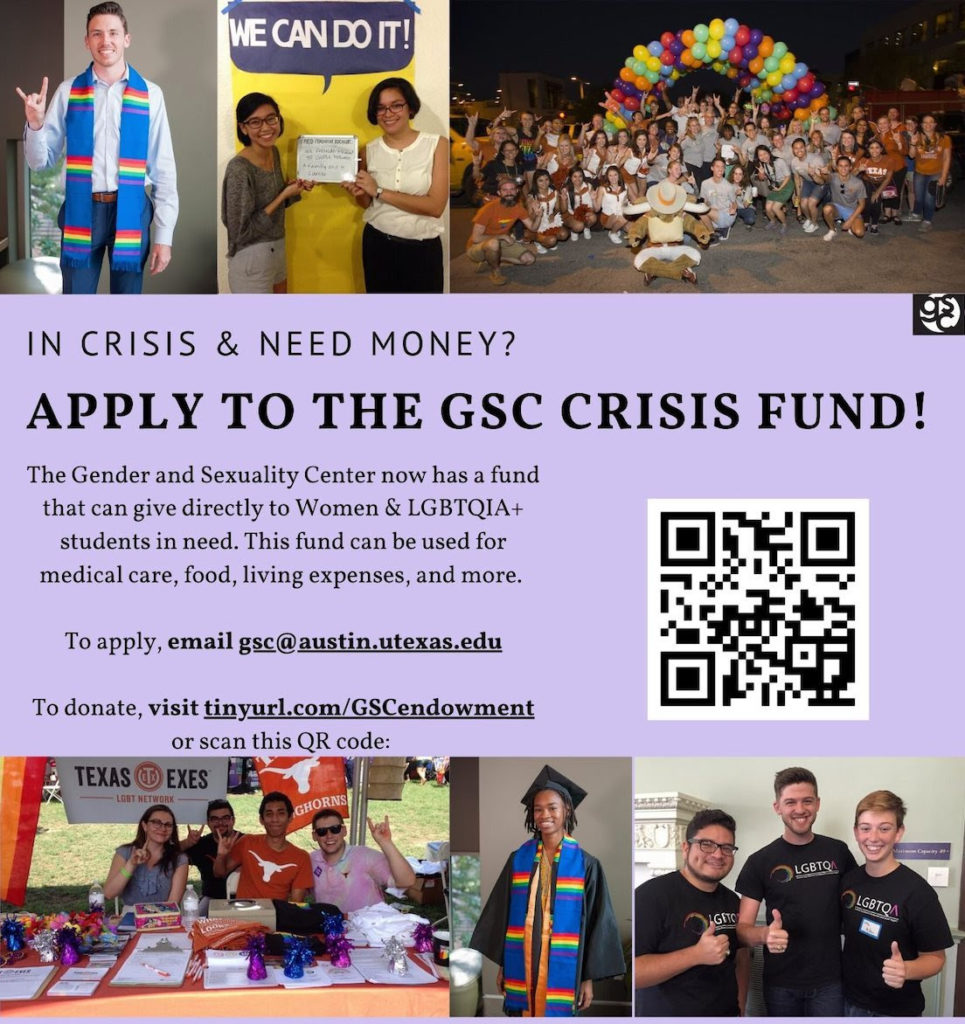 What it offers
Money to families in crisis so they can pay for:
Food
Clothing
Housing
Utilities
Furniture
Transportation
Phone
Laundry
Supplies for the home
Medical supplies not paid for by Medicaid
Other basic needs
https://yourtexasbenefits.hhsc.texas.gov/programs/tanf/one-time
This help can be given to a family only once a year.
Who is it for?
Families in crisis who:
Have children age 18 and younger.
Don't have a lot of money or have a way to get more money.
Crises include losing a job, losing a home, or a medical emergency
Foundation Communities: Filing Taxes Virtually
Foundation Communities has teamed up with GetYourRefund.org to help you file your taxes online with the help of IRS-certified tax preparers. To get started, please click here.
How it Works
Step 1: Verify your identity online
If you have problems with this step, please call 512-610-7374.

Step 2: Answer questions online
Answer a series of questions about your household and finances so that your tax preparer has what they need to prepare your return.

Step 3: Submit documents online
Share all necessary documents (e.g., ID, W-2, 1099, 1095-A).
Step 4: Phone review
Your tax preparer will call you and review everything with you over the phone before they start your return. Your tax preparer will call you again to walk you through your completed return.
Step 5: Get your refund
If you choose to file your tax return, your tax preparer will help you submit your return to the IRS.
If you have not filed your 2018 or 2019 tax return, filing your 2019 return is the fastest way to receive your $1,200+ economic impact payment from the IRS. If you do not have a filing requirement, please click here for information about how to get your economic impact payment. Please note that the IRS extended the filing and payment deadline for 2019 tax returns to July 15, 2020.
To address this problem, in partnership with Hope Food Pantry and the Austin Transportation Department, Good Apple is launching the "Stay Home, Stay Healthy" food delivery program for at-risk groups — the elderly and the immunocompromised. This program is designed to support people in need and promote effective social distancing during this tough time.
Good Apple has partnered with HOPE food pantry to administer the Stay Home Stay Healthy (SHSH) program, which delivers free food staples and produce to individuals who are at high risk for COVID-19 infection and are facing food insecurity. This is a one-time service, but if after 7 days someone is still experiencing food insecurity, they can refill out the intake survey (details below) and be put back on the delivery list.
The current eligibility criteria for the program are:
Individual must live in Travis County.
Individual or someone they live with must be older than 55 years of age OR have an underlying medical condition that puts them in a high-risk category (cancer, HIV, transplant recipient, diabetes, heart and lung disease, etc).
To enroll, there are three options:
Recommended option for those who are able: individuals fill out the intake survey at this link. This will also let individuals know whether they qualify for the service and provide other options for food acquisition if they do not qualify.
If an individual doesn't have the ability to fill out the survey online: call our hotline at (737) 228-3558 and leave a message, and a volunteer will return the call and fill out the survey with the individual over the phone.
You may also fill out the intake survey for your residents/clients if they are interested but unable to fill it out themselves. Again, the intake survey is found here.
Our goal is to fill any gaps in food services that your residents may be facing during this pandemic.
If you don't qualify for this program but still seek relief, we want to help connect you to other community resources. Visit the 211 website or call (877) 541-7905for information on alternative assistance.
As always, if you have any questions or want to help, reach out to us at contact@goodapplefoods.com.
Online Writing Workshop For Students Grades 3 – 12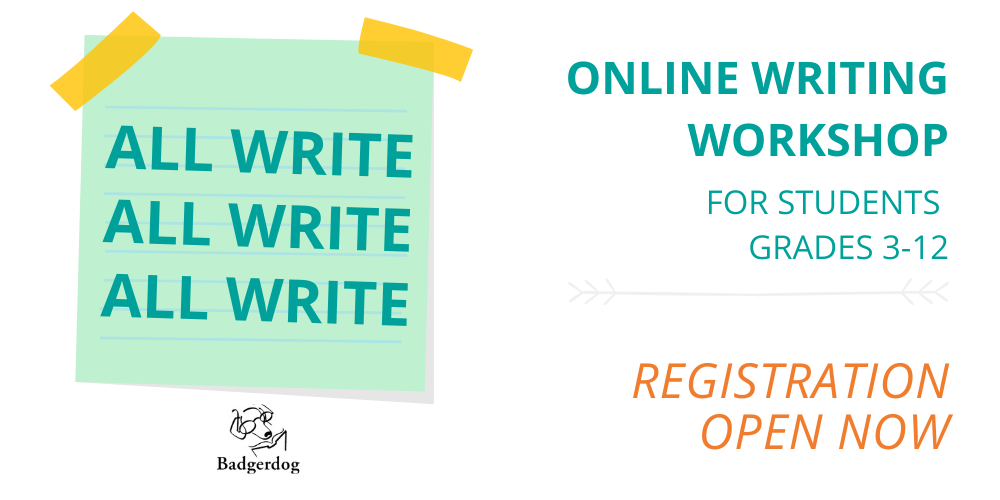 Starting on April 15, those in need of emotional support can register here for "up to 5 free therapy sessions with culturally competent clinicians in our Resource Guide," according to an emailed statement from BLHF. As Henson says, "No one should have to suffer in silence."
PEN PALS: A Snail Mail Workshop
Pen Pals is a creative writing workshop in which participants read, write, and connect through physical letters sent via USPS. Pen Pals aims to connect adults (edit: youth for youth workshops) across the Austin area through shared stories and creativity. While we are all being asked to stay healthy at home, Pen Pals provides participants with the opportunity to feel connected without screens or the internet. Each week you will receive a writing prompt from a Badgerdog teaching artist that you will use as inspiration to craft your letter to your Pen Pal. It's an old-fashioned way to make a new friend, share your writing, and receive a weekly surprise in the mail.
Registration is open now and will close on Friday, April 24 at 5:00pm. Visit this Eventbrite page to register. After registering, you will be directed to complete a GoogleForm with your contact information. From there, The Library Foundation staff will be in touch with next steps on receiving your first letter and connecting with your Pen Pal.
For Youth: Same information as above. Pen Pals is free and open to any youth, ages 7-17, currently living in Austin, TX and surrounding counties. If the mail sent from Austin can get to you in 1-2 business days, sign yourself up!
ASA Now Has At-Home HIV Testing
Offering at-home HIV Testing Kits! As providers across the community halt in-person testing we are delivering free at home HIV test kits through our CDN store. The order of each kit is accompanied by a virtual session with a certified HIV counselor. If someone tests positive we are linking them to care at our Moody Medical Clinic.
Use this map to identify emergency food resources and meal sites near you, and find information about hours of operation, etc. You can also find information about emergency food and other services at www.connectatx.org. Information will be updated twice per day. To include additional sites or report incorrect information, please contact Samantha Night (Samantha.Night@austintexas.gov)
Getting you food and supplies while keeping everyone safe
COVID-19 has changed how everyone in Austin gets food. With more restaurants closing and fewer people handing out donations, finding reliable sources of food is more important than ever. The City of Austin and partners across the community created the Eating Apart Together (EAT) Initiative to get food to people experiencing homelessness through the COVID-19 response.