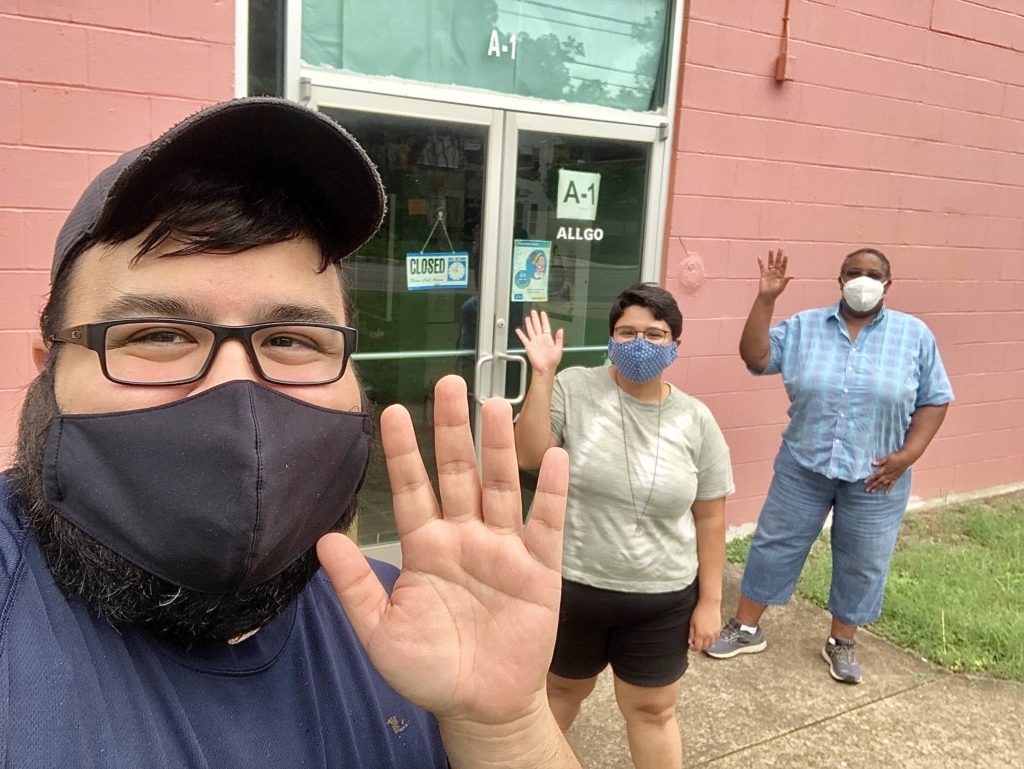 By Bryan Garcia (he/him/his)
As we close out 2021, I would like to invite you to take a moment to look back on the past year. So many wonderful memories and connections were made through allgo's virtual and in-person gatherings. I appreciate how allgo aims to provide programming that meets our communities' needs and desires as well as offer opportunities where we can provide one another presence, support, and camaraderie throughout the year, into the holiday season, and beyond. Thinking back, so many warm and proud moments came to mind and I wanted to share them with you in the hopes that it might spark some memories of your own. Below are a few of those vibrantly queer memories:
We hosted our Fifth (first virtual) Community Healing Health Fair in March. For those of you who don't know, allgo's Community Healing Health Fair is hosted every year with the commitment to serve queer Black, Indigenous, and People of color communities who are disproportionately affected by the inequities in our healthcare system. These inequities challenge queer people of color the most when it comes to accessing needed resources. As I saw in the previous year when I was able to assist, the healing fair has been a very tangible way to support diverse queer people of color communities' right to health education, information, and connection. I was both eager and a bit nervous, but what helped ease any worry was knowing that I had the support and encouragement of our Executive Director, Priscilla Hale, the allgo community, and the dedicated volunteers that helped make it a success. This year, we were able to organize an event that provided our community access to a beautiful team of wellness leaders, holistic practitioners, and mental health care providers. This helped us bridge the gaps that deter queer communities of color from accessing the care they need and deserve. 
Our Winter Storm response alongside CCU (Communities of Color United) displayed the powerful way that our communities take care of our own in times of crisis and hardship. That time all seems like a bit of a blur for me now, but every now and then I can recall a vivid detail of the experience that still appears so surreal. Our communities mobilized to respond to the community crisis with some immediate relief efforts. I believe we did a great job of tending to the ongoing need in the community while simultaneously providing relevant health and wellness programming for folx who needed extra emotional support. I hope we never have to go through that again, but I am confident in the positive way we will be able to respond if and when needed. 
Our virtual Community Artistic Showcase with Krudxs, Mosaicx Experiencia, Blackchyl, KB, and DJ Chorizo Funk was nothing short of a party. Seeing so much queer talent on one stage was a great privilege. It showed me how much we have in this city and how much it deserves to be spotlighted and amplified for the world to see and enjoy. I look forward to helping allgo bring in and showcase more emerging and established artists for our Cultural Arts programming events in the future. Funding for the arts is usually the first to get affected when budget cuts are made, so it is so crucial for us to show up and support the work when it finally gets a chance to shine. 
Our Health & Wellness Coordinator Magaly was able to find, secure a grant for the Roots and Wings Festival this year. We decided to use that to create a Health & Wellness event where we could explore the healing power of nature as queer people of color in a space by, for and about QPoC. It is well known that while hiking and exploring nature are things that people of color can enjoy and have found joy in, it has historically not always been the safest and most welcoming activity for us and can be confused as a hobby that only people of no color and of certain socioeconomic means can participate in. I cannot tell you just how much of a beautiful sight it was to see queer people of color gathered outside and taking in all the lovely greenery around them! I hope we are able to continue doing events like these and over time overcome the barriers that prevent us from fully showing up in the outdoors. A big plus was that everyone was able to go home with a cute succulent from East Austin Succulents to continue their nature connection journey. 
Our 36th Anniversary Celebration reunited many beautiful folx in-person for the first time since the pandemic started. It was such a cheerful time seeing so many kind faces that I had only seen from behind a computer screen for the past two and a half years. It was emotional, to say the least. I missed seeing people. The laughter, the conversation, the food, music, all of it filled me with pure joy. Imagine being able to gather like this all the time? I couldn't believe we used to do things like this on a regular basis! It left me with a ton of hope for future events to come. 
Dia de Los Muertos brought us together to collectively honor our ancestors on an evening filled with warm memories, a candlelit altar, vibrant colors, flowery aromas and flavorful tastes. The talented artist and poetry performances tied everything together to make it a very intimate evening of connecting with our loved ones. This is one of my favorite events that allgo puts on every year. 
I hope you feel encouraged to take some time to look back at the year that you have had and highlight some of the moments and memories and energy that you want to carry into the new year with you. You deserve to feel good about closing this chapter in your life and opening and embracing all the good that awaits you in the next. Know that allgo is here to help make it a good one for you.
What was your favorite allgo event this year? What about a favorite memory you created? Let us know on Twitter, Instagram, and Facebook @allgoqpoc.