This weekend, from August 25th to August 27th, allgo will be hosting a 3-day black LGBTQ queer arts revival "service" of poetry, church, performance, community, divinity, gospel house music, and storytelling. This Tent Revival features a star-studded list of brilliant black queer speakers, performers, poets, magic makers, and joy bringers. You can find a full list on our event page.
Now, more than ever, we need to participate in creative and what lead artist and curator Marvin K. White has coined "Prophetic Placemaking" to understand the ways in which the arts and the "spirit of our communities" are being displaced. How do we "ground" in community, practices and spaces, that are safe from gentrifying and political forces?
I had the pleasure of asking White a few questions on his vision and goals for this upcoming event. Interview follows.
---
Jae Lin: In a few words off the top of your head, what vibe can folks expect from this Tent Revival?
Marvin K. White: Folks can expect a suspension of time, where "the word" is given breadth and room to fill the physical space, the heart space, the spirit space and the head space.
Jae: You have coined the phrase "Prophetic Placemaking," which has been used to describe the importance of this event. Can you tell us a little more about what "Prophetic Placemaking" means and what led you to come up with the phrase?
White: When I think about "Prophetic Placemaking" I think about the importance of having institutions on our walks to and from home, that remind us that we are on spiritual journeys. It worries me that our landmarks—our public schools, our art institutions and our churches, temples, meditation spaces, mosques, and contemplative spaces are being gentrified. I think about "Prophetic Placemaking" as intentional disruption of the dispensing of our centers, our homes, our churches, and our institutions.
Jae: What context in particular would you say makes an event such as this Tent Revival particularly urgent and necessary?
White: Joy is the context in which I create this event. Joy, because it is our natural state, and we are being told through the destabilization of our home lives, family lives, our kinship and friendship lives, as well as our creative, spiritual, intellectual, sexual, and political lives, that now is not the time for joy. We are being told through dominant culture and dominant narratives, that is the time to worry if you will live or die. So joy, unadulterated, shameless and intentional joy through storytelling and deep hearing is urgent and necessary in these perilous times.
Jae: Who would you encourage, with the most emphasis, to attend this event?
White: I would encourage those who love a good story, good company, good church, good people, those who write about religion and spirituality in contexts of POC's and those who live out a religion and spirituality as POC. I encourage poets, and prophets, and spirit folks, however they define what ever is working for and through them from the supernatural into the natural to bring forth a balm for an aching people. I encourage community, students, family and friends of black queer folks who want to bear witness to the heart opening and pouring that this event will surely produce. And oh, the lovers of house music—an old low gospel house music!
---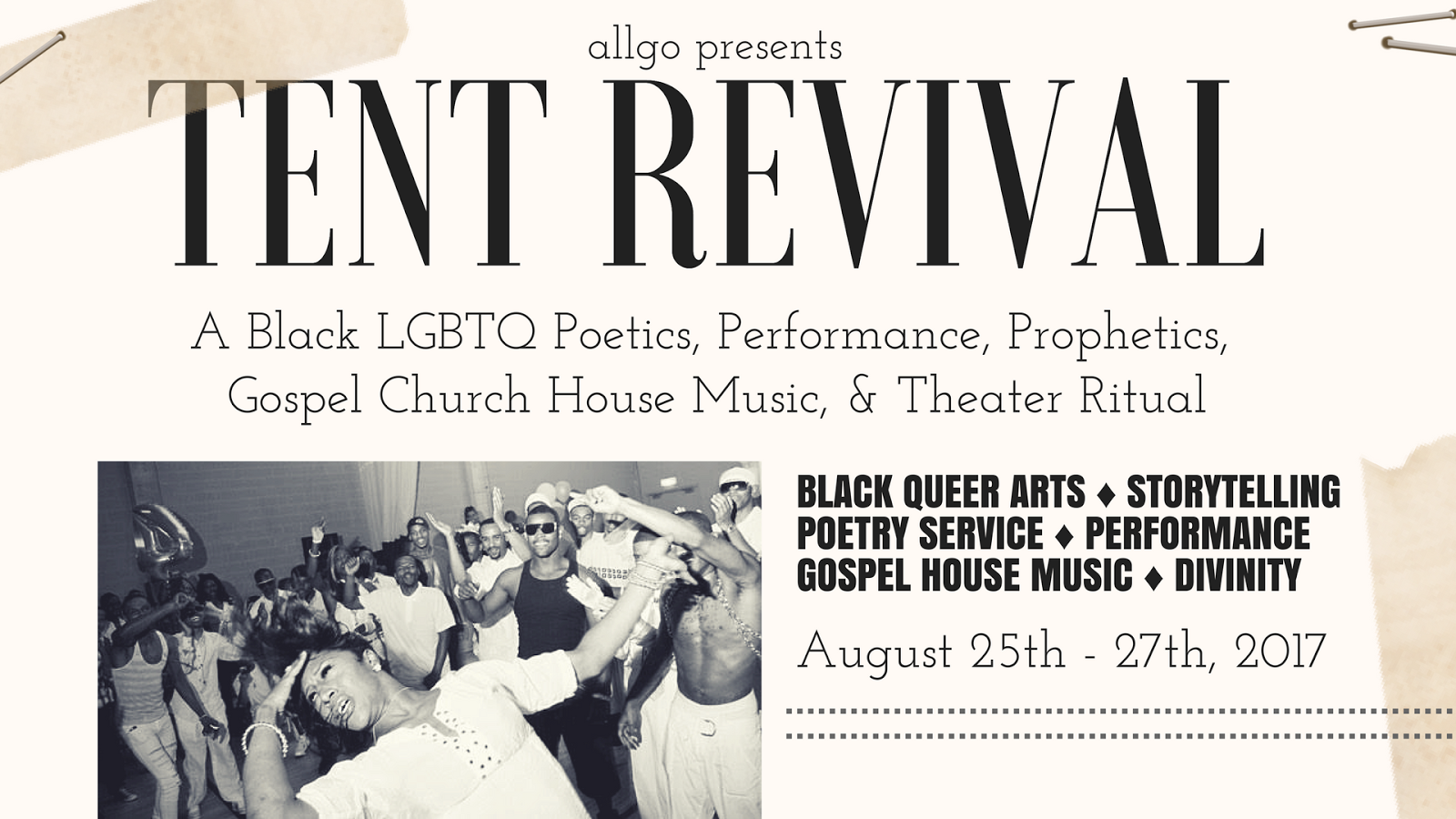 Tent Revival: A Black LGBTQ Performance & Prophetics Festival will be happening all weekend at 701 Tillery Street, Austin, TX 78702. For more information, festival schedule, and to RSVP click here.