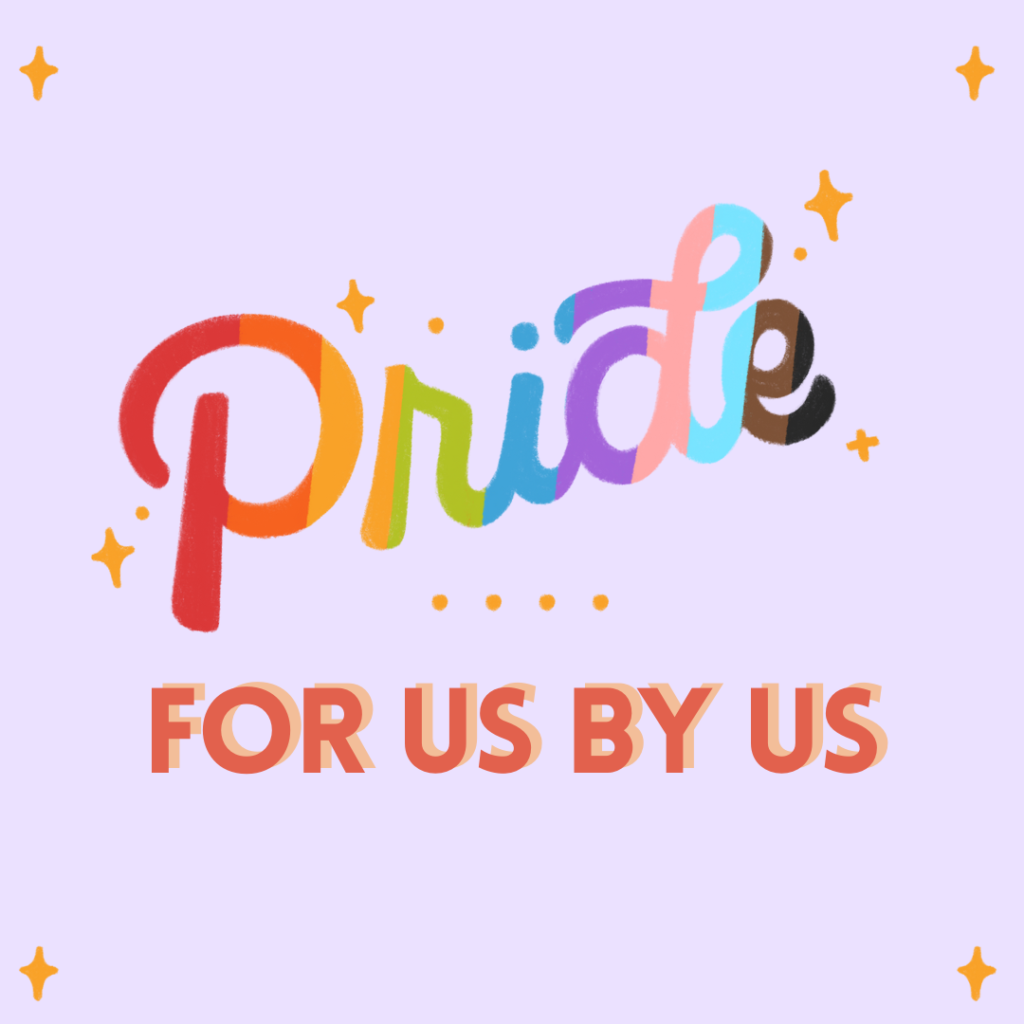 Por/By Magaly Arredondo Lopez (she/her/ella)
Este blog está en español e inglés. This blog is in Spanish and English.
¿Qué significa el Orgullo Gay para nosotros y qué nos parece como gente de color queer? ¿Es el orgullo algo presente que no cambia dentro de nosotros o está evolucionando, creciendo y cambiando con nosotros? Agosto es cuando se lleva a cabo la celebración del Orgullo Gay en toda la ciudad de Austin, por lo que estoy reflexionando sobre la siguiente pregunta: ¿cómo se ve el orgullo para nosotros y creado por nosotros como gente de color queer? ¿Cómo creamos nuestras celebraciones? ¿Qué significa ser queer para nosotros?
—
What does Pride mean to us and look like for us as queer people of color? Is Pride something that is suddenly present and unchanging inside of us or is it evolving, growing, and shifting with us? August is when Austin's city-wide Pride celebration takes place, so this has me reflecting on the following question: what does Pride look like for us by us as queer folx of color. How do we shape our celebrations? What does being Queer feel like for us?
¿Dónde estuvimos? / Where were we?
Hablar sobre nuestro pasado o cuando éramos más jóvenes puede ser difícil de hablar si hay recuerdos dolorosos asociados con no haber salido del closet, no aceptarnos a nosotros mismos o enfrentar el rechazo de las personas en nuestras vidas. Cuando miras hacia atrás hace 1 o 2 o 5 o 10 años (o incluso más), ¿cómo te sentías acerca de tus identidades queer? Tal vez estabas luchando por encontrar paz y comodidad en tu cuerpo y mente y no estabas listo/a/x para aceptarte a tí mismo. Tal vez todavía estabas aceptando la verdad de que eres queer, lesbiana, gay, trans, asexual, no binario o algo más y que eso está bien.
Por otro lado, tal vez nunca te hayas preguntado si ser queer está mal, es malo o necesita ocultarse. Tal vez siempre estuviste seguro/a/x de quién eres y no te disculpaste por ello. Quizás te sentiste neutral. Quizás te sentiste preocupado/a/x. Quizás te sentiste emocionado/a/x. Cualquier experiencia que hayas tenido cuando eras más joven y estabas aprendiendo a ser queer está bien.
¿Qué preguntas tenías para ti o para los demás? ¿Estabas tratando de entender quién eres, cómo navegas por el mundo en tu cuerpo o cómo expresas tu deseo sexual o romántico? ¿Qué partes de quien eres aceptabas? ¿Qué partes no aceptabas?
¿Qué significaba el orgullo gay para ti en ese entonces? ¿Cuándo empezaste a sentirte orgulloso/a/x de tu identidad (o identidades) queer?
—
Talking about our past or when we were younger can be hard to talk about if there are painful memories associated with not being out, not accepting ourselves, or facing rejection from people in our lives. When you look back 1 or 2 or 5 or 10 years ago (or even longer), how did you feel about your Queer identities? Maybe you were struggling to find peace and comfort in your body and mind and were not ready to accept yourself. Maybe you were still accepting the truth that you are Queer, Lesbian, Gay, Trans, Asexual, Non-Binary, or something else and that that is okay.
On the other hand, maybe you never wondered whether being Queer was wrong, bad, or needed to be hidden. Maybe you were always sure of who you were and felt unapologetic about it. Maybe you felt neutral. Maybe you felt concerned. Maybe you felt ecstatic. Whatever experience you had as a younger person who was learning about being Queer is okay.
What questions did you have for yourself or others? Were you trying to understand who you are, how you navigate the world in your body, or how you express your sexual or romantic desire? What parts of who you are did you accept? What parts did you not accept?
What did Pride mean to you back then? When did you first start to feel proud of your Queer identity (or identities)?
¿Dónde estamos? / Where are we?
A medida que te conoces a ti mismo y a tu identidad (o identidades) queer, ¿qué ha cambiado? ¿Cómo has crecido? ¿Qué pasos has dado para sentirte más en paz contigo/a/x mismo/a/x?
El crecimiento y el cambio no son lineales. Cuando entendemos esto, comenzamos a ver que el crecimiento va acompañado de desafíos, retrocesos y, a veces, incluso tener que aprender sobre algo una y otra vez para aceptarlo y sentirnos cómodos con ello. Hay momentos en los que me siento frustrada conmigo misma porque no estoy donde espero estar. A veces me siento frustrada porque hay partes de mí misma con las que todavía lucho y que pensé que había procesado y aceptado por completo. Aquí es donde entra la compasión.
Por ejemplo, cuando tenía 22 años, pasé por muchos cambios personales en mi vida y pude aceptarme y amarme incondicionalmente por primera vez. En los años siguientes e incluso ahora, todavía me encuentro cayendo en viejos patrones de no gustarme, ser mala conmigo misma o rechazarme. Cuando empiezo a sentirme culpable, recuerdo que el crecimiento y el cambio no ocurren en una dirección sencilla y directa. No me despertar mágicamente un día amándome a mí misma y luego nunca volver a lidiar con mi autoestima o mi diálogo interno negativo. En cambio, seguiré aprendiendo la lección del amor propio incondicional una y otra vez en mi vida.
¿Cómo ha crecido con el tiempo tu capacidad para aceptar y estar orgulloso/a/x de tu identidad (o identidades) queer? ¿Hay formas en las que celebras el Orgullo Gay hoy que no lo hacías cuando eras más joven? Mientras continúas navegando por la vida y creciendo, espero que dejes espacio para ser amable y compasivo contigo mismo/a/x todos los días.
—
As you get to know yourself and your Queer identity (or identities), what has changed? How have you grown? What steps have you taken to feel more at peace with yourself?
Growth and change are not linear. When we understand this, we start to see that growth is accompanied by challenges, setbacks, and sometimes even having to learn about something over and over again in order to accept it and feel comfortable with it. There are times where I feel frustrated with myself because I am not where I expect myself to be. Sometimes I feel frustrated because there are parts of myself that I still struggle with that I thought I had processed and accepted fully. This is where compassion comes in.
For example, when I was 22 years old, I went through a lot of personal change in my life and was able to accept and love myself unconditionally for the first time. In the following years and even now, I still find myself falling into old patterns of not liking myself, being mean to myself, or rejecting myself. When I start to feel guilty, I remember that growth and change do not happen in one easy and straight direction. I will not magically wake up one day loving myself and then never deal with my self-esteem or negative self-talk again. Instead, I will keep learning the lesson of unconditional self-love over and over in my life.
How has your ability to accept and be proud of your queer identity (or identities) grown over time? Are there ways in which you celebrate Pride today that you didn't when you were younger? As you continue navigating life and growing, I hope you leave room for being gentle and compassionate with yourself every single day.
¿Dónde nos gustaría estar? / Where would we like to be?
Ahora que hemos explorado dónde estábamos y dónde estamos, pensemos dónde nos gustaría estar. Como personas de color queer, es importante que el futuro que imaginamos para nuestras vidas también esté siendo moldeado por nosotros. ¿Quién mejor que nosotros para moldear, crecer y cultivar nuestro propio futuro?
Cierra tus ojos. Conecta tu cuerpo a una silla, un sofá, un piso. Imagina una vida en la que se satisfagan tus necesidades. Estás bien alimentado. Tu corazón está en paz. Tu cuerpo, mente y espíritu están a salvo y donde deben estar.
En este futuro imaginado para ti, ¿de qué estás más orgulloso/a/x? ¿En qué espacios estás? ¿Qué recursos tienes? ¿De qué comunidades eres parte? ¿Cómo se siente ocupar espacio y ser todo tu ser hermoso? ¿Qué simplemente se siente bien?
Esperamos explorar, imaginar, visualizar y soñar todas las posibilidades de lo que el Orgullo Gay, el ser Queer y la plenitud podrían ser para nosotros y creados por nosotros. Únase a nosotros el martes 10 de agosto de 6 a 7:30 p.m. CST para Pride: For Us By Us. Regístrese para asistir en bit.ly/PrideFUBU.
Mientras tanto, siéntete libre de comentar y compartir sobre lo que la celebración del Orgullo Gay significa para ti ahora y lo que te gustaría que significara para ti en el futuro.
—
Now that we have explored where we were and where we are, let's think about where we would like to be. As queer people of color, it is important that the future being envisioned for our lives is also being shaped by us. Who better than us, to shape, grow, and cultivate our own future?
Close your eyes. Ground your body to a chair, a couch, a floor. Imagine a life where your needs are met. You are well fed. Your heart is at peace. Your body, mind, and spirit are safe and where they need to be.
In this imagined future for yourself, what are you most proud of? What spaces are you in? What resources do you have? What communities are you a part of? What does taking up space and being your whole, beautiful self feel like? What just plainly feels good?
We look forward to exploring, imagining, envisioning, and dreaming up all the possibilities of what Pride, being Queer, and wholeness might look like for us by us. Join us on Tuesday, August 10th from 6-7:30 PM CST for Pride: For Us By Us. Register to attend at bit.ly/PrideFUBU.
In the meantime, feel free to comment and share about what Pride celebration means to you now and what you would like it to mean to you in the future.