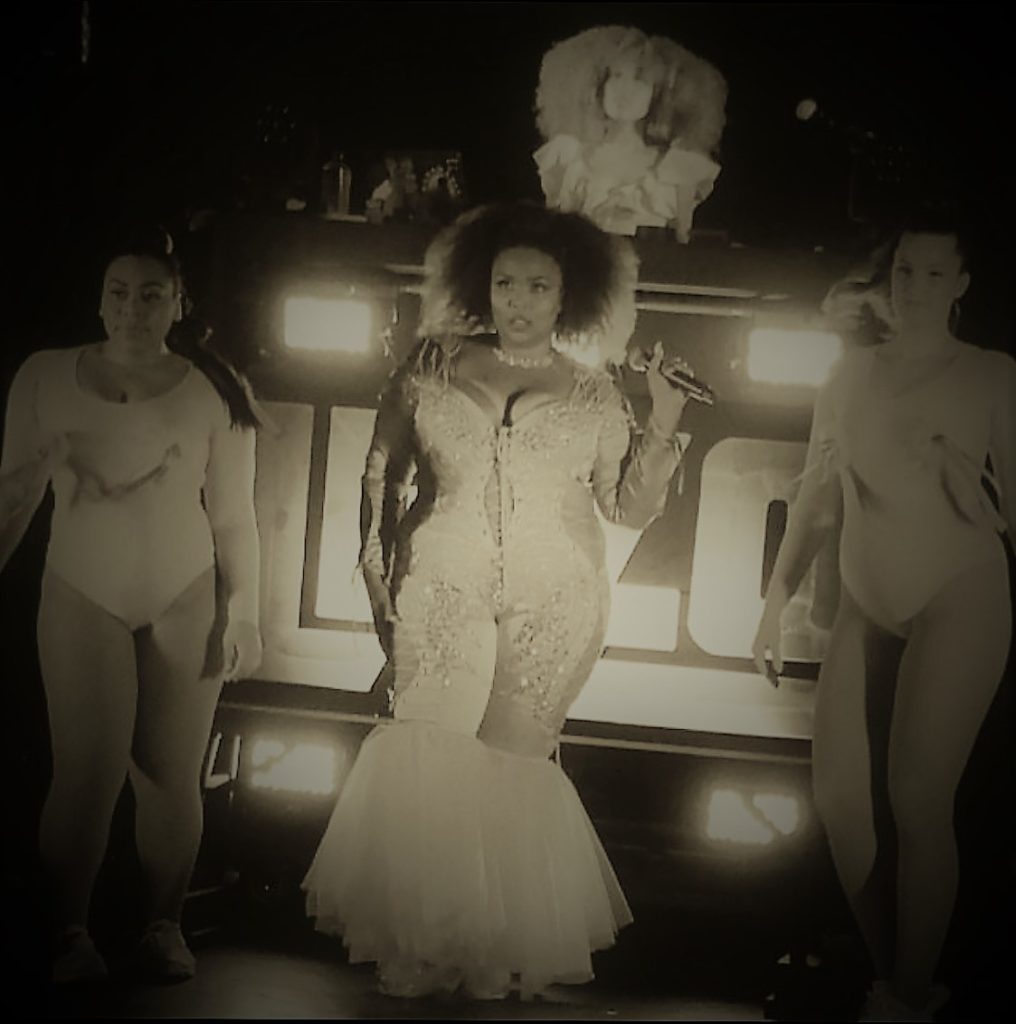 By Bryan Garcia (he/him/his)
So Lizzo just dropped a new album on July 15th, 2022, which I have had on repeat for a while. It received mostly positive reviews from music critics. I love watching people on YouTube react to the album, especially those who start their videos with some "I don't like Lizzo" nonsense and end up surprised and eating their words along with the book cover they just judged and chewed on before reading. I have been a long-time fan and supporter of Lizzo. My admiration began in the fall of 2016 when she performed at Austin City Limits Music Festival. Her whole-hearted energy gently captured my soul and wrapped it in long-lasting fun and feel-good feelings.
I went home and googled the heck out of her. Watched all the interviews and started learning more about the role she took on as a champion of body positivity. This was right around the time when there was a huge wave of white, non-fat, pseudo-health influencers hijacking and co-opting the body positivity movement. I felt seen, heard, and protected by her – things I rarely ever felt up until that point. There was an emotional warmth that transcended the screen that I could easily carry with me throughout my day. I bought all the songs on iTunes and caught up with her discography up until that point and started following her on social media to make sure I got tickets to her next show in town.
The following year, I went to her show at Antone's in February. I remember that the tickets were less than $20. The actual concert was a room of 400 people, which made for a very intimate gathering. This was right when "Good As Hell" reached 1 Million views on YouTube. Did I mention that she liked the post I made from the concert as well!?! The next month, I made sure to get time off work to catch her at a SXSW pop-up show during the day. I remember being less than twenty feet from her and wanting to go up and express how grateful I was but held off to avoid having security called on me. Since then, I have been able to see her perform live almost 10 times and I leave those spaces feeling so good, hopeful, and validated about how much space I am taking up in this world.
Okay, enough about that. Let's get into the music:
2 Be Loved (Am I Ready)
What About It? The first ten times I heard this song, I cried tears of mixed emotions. The lyrics were really resonating with me. Am I ready to be loved? It was asking me if I was ready to be loved. Am I ready to receive the love being offered to me by someone else, my friends and family, God or some other higher power, and of course myself?
Iconic Line(s): The Whole Damn Chorus
"Am I ready? (Girl, there ain't a doubt)
Am I ready? (What you talkin' 'bout?)
Am I ready? (You gon' figure it out)
To be loved, to be loved (to be loved)
Am I ready? (You deserve it now)
'Cause I want it (that's what I'm talkin' about)
Am I ready? (You gon' figure it out)
To be loved, to be loved"
That new inner voice of self-compassion and kindness that I have worked so hard to embrace whispers and yells for me to release any doubts I might be hanging onto. It compels me to embrace the truth that I am worthy of love. It does it in a way that promotes my self-determination and ability to go at a pace that makes sense for me and is not a cookie-cutter approach to love or relationships. It is my favorite song by far and will most likely be my top listened-to song on Spotify at the end of the year.
Special
What About It? Lizzo is always on the receiving end of hate. Amongst the many accusations rooted in misogynoir and fatphobia are those that she promotes an "unhealthy" lifestyle. To them, Lizzo is a bad influence because she is simply existing while being Black and fat. I wonder: What would these critics prefer? Someone who is withdrawn and closed off from the world, not surrounded by people they love, doubting their goals and dreams, letting their depression get the upper hand? It sounds like misery loves company.
Lizzo doesn't owe anyone an explanation for how she moves in the world and neither do you. She eats vegan because it makes her body feel great, and yes, I know being vegan doesn't necessarily mean you are "healthy." Let's pause and take a look at the idea of health. The WHO defines health as "a state of physical, mental, and social well-being." I couldn't think of anyone who fits the description better than her. I doubt any of her detractors could keep up with her on stage as she sings and dances all while exuding joy and love the way that she does.
Anyway…
Iconic Line(s):
"Woke up this morning to somebody in a video
Talking about something I posted in a video
If it wasn't me then would you even get offended? Or
Is it just because I'm Black and heavy? Y'all don't hear me though"
Also LOVE the Pre-Chorus and Chorus:
"I'm used to feeling alone, oh
So I thought that I'd let you know
In case nobody told you today
You're special (special)
In case nobody made you believe
You're special (special)
Well, I will always love you the same
You're special
I'm so glad that you're still with us
Broken, but damn, you're still perfect (perfect)
(Special)"
About Damn Time
What About It? The viral Tik-Tok song. If you haven't seen the dance, go check it out. It is cute and fairly entertaining. I didn't give the song a full listen until the album was released. I was nervous since it was the first single and I didn't want to be disappointed. Since achieving mainstream success, long-time fans have worried about the music losing its essence. So far, that hasn't been an issue. The level of production may have increased, but it is still the same Lizzo I fell in love with 6 years ago.
Iconic Line(s): The Pre-Chorus
"Oh, I've been so down and under pressure
I'm way too fine to be this stressed, yeah
Oh, I'm not the girl I was or used to be
Uh, bitch, I might be better"
This part always has me feeling a certain type of way. Empowered for sure. Acknowledging the hardship. Recognizing that my valuable time and energy were not intended to be wasted on putting myself down. I am so much more than the challenges and barriers before me. I am actually pretty damn amazing. As a queer person of color, this sort of messaging is vital to my survival.
Go Listen!
If you haven't yet, I hope you take this as your sign to treat yourself to a good listening session. I would love to know what song you ended up enjoying the most. Also, what artists make you feel "Special?" There might be a second part to this blog where I go back and share some of the older Lizzo tracks that grabbed my attention and started this fan journey of mine, so stay tuned!