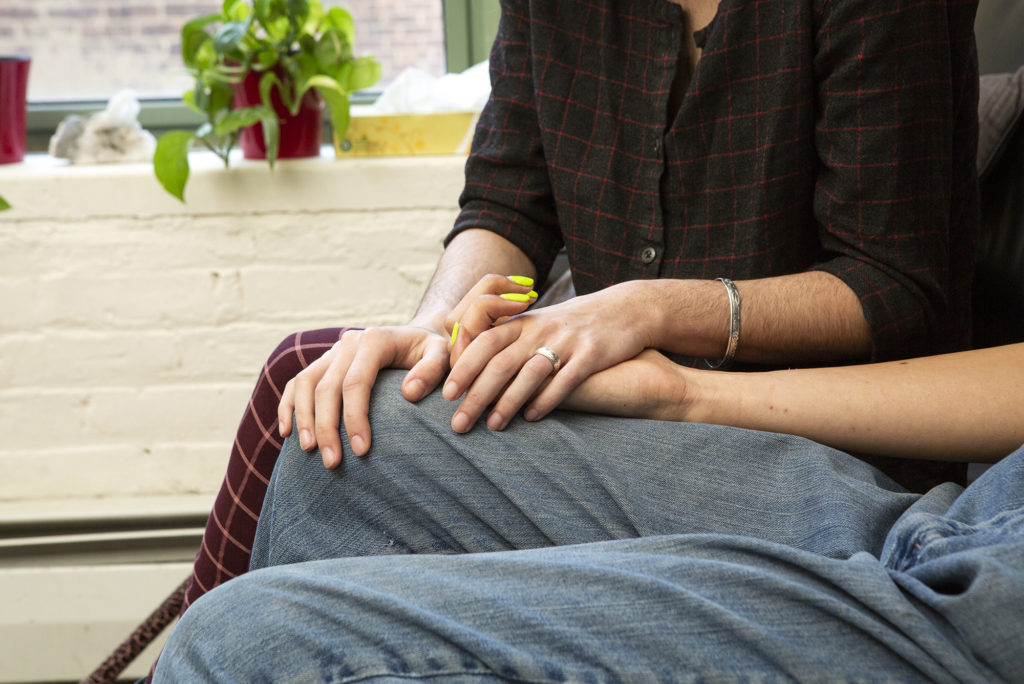 By ena ganguly
You have been going to therapy, off and on, for a few years now. You've had your positive and negative experiences, but have found a groove with your current therapist that is allowing you to heal and grow as a person. With the end of the year coming up, you may have chosen to spend your holidays with your family and loved ones, in whatever capacity you can this year. In doing so, you may begin to think about how your loved ones could really benefit from therapy, especially those who may already have the means to access therapy, because of their insurance coverage or financial means.
Now, you know that therapy is not for everyone, especially when it's the right time for someone to choose therapy. Therapy isn't something you should push onto people or shame them into doing. It's a healing modality that a person must choose for themselves, and if they want to, they may approach others to support them in whatever ways they need to be supported.
With that in mind, as you spend time with your relatives and loved ones, the conversation on therapy may organically come up. Here are four ways to approach your loved ones with the topic of therapy:
Share your experiences
If you want others to open about their struggles and what they need support with, you have to model that for them. This is especially important when your loved ones are introverted or not the type of people to talk about the things that are really hurting them mentally or emotionally.
Consider opening with how good your therapy appointments have been to you. Talk about what each therapy appointment does for you, and why you choose to go to therapy every time you do. This can look like saying, "My therapy appointments have really allowed me to practice self-compassion." or "In therapy, I can practice absolute honesty with myself and my therapist."
In order to share your experiences honestly, you should also think about sharing the moments of struggle. Like the times you didn't want to go therapy, or how many times you changed therapists, or those months or years where you completely fell off. Letting your loved ones know that therapy is a choice they can make, and not something they have to do for their whole lives, may help them feel less pressured or stressed about the decision to begin.
This is an option for you to do with those you feel safe doing it with. This also means that you can share at your own pace, and not feel like you have to overstep your capacity or personal boundaries because you're trying to support your loved ones. Remember, you have to do what's doable for you too, so go at your own pace when it comes to sharing.
Let them know you're a resource
One of the best things you can do for someone, without pressuring them into a conversation that they may not be prepared to have, is to let them know that you are here for them. Something like, "Hey, I wanted to let you know that I care about you, and you can always come to me if you have questions about seeking therapy. Okay?" This may be especially helpful for your younger relatives, friends, and chosen family who may already look to you as a resource, confidante, and mentor or guide.
For older folks or people who are our peers, something to the effect of, "Therapy can be such a great and necessary support tool for us when we're ready. I'm happy to share with you my experiences if you want to talk about it." is a great non-judgmental way to let others know that you're available for that conversation. And it shows that you care!
Everybody's doing it!
There was a time when seeking therapy meant you were 'wrong' somehow. Thankfully times are changing, and though ableism is still alive and well, shows, movies, books, and podcasts have done a great job at beginning to normalize the conversations surrounding mental health, therapy, medicine for mental health, and so on.
Take the time to assess what types of media you consume that normalizes therapy. Shows like Girlfriends and How To Get Away with Murder, Instagram accounts like @decolonizingtherapy and @sothisishealing, and movie stars like Taraji P. Henson launching a foundation to support the mental health of Black communities, it is now very possible to have the conversation with our loved ones by watching an episode, a movie or listening to a podcast together. It's a tool we can use to open up the conversation and build trust so that those conversations continue to happen.
Speaking of, whatsinthemirror? a Black led organization based here in Austin has launched a connect to care initiative where people of color can access the first couple of therapy sessions at no cost. Share with other people of color and consider applying!
Be compassionate and practice awareness
The last but most important thing to remember is to be compassionate with your loved ones and make sure you are not pushing them to have a conversation they are not ready to have. If you do, it may ruin the trust in your relationship and have an opposite effect on them, one where they would rather not approach therapy because of their conversation with you.
Stay mindful of how the person receives the conversation and stay within the limits that they are comfortable with. So, it may not be the best practice to mention the nervous breakdown they had a few months ago or when they called you in tears at their workplace because they were having a panic attack. These are moments when they were feeling extremely vulnerable. Do your best to not take those moments as points to your case as to why they should seek therapy.
If you are hoping to broach the subject of mental health and therapy this year, as you see your family and spend time with loved ones, know that it is a fiercely intimate subject that ought to be approached with sensitivity and compassion. The two most important things are that you are within your capacity and respect your boundaries when sharing about your experiences and that you respect the boundaries of your loved ones.
I hope these tips provided you with some ways to approach this subject with love, compassion, and empathy. There is nothing better than to know that someone else has your back, and if you handle this conversation with love and respect, that feeling will come across easily to your loved ones. What are some ways you've broached the topic of therapy with your family or loved ones? Share with us on Facebook, Twitter, and Instagram using our handle @allgoqpoc!