allgo's 37th Anniversary Celebration Kick-Off!
October 16, 2022 @ 2:00 pm

-

4:00 pm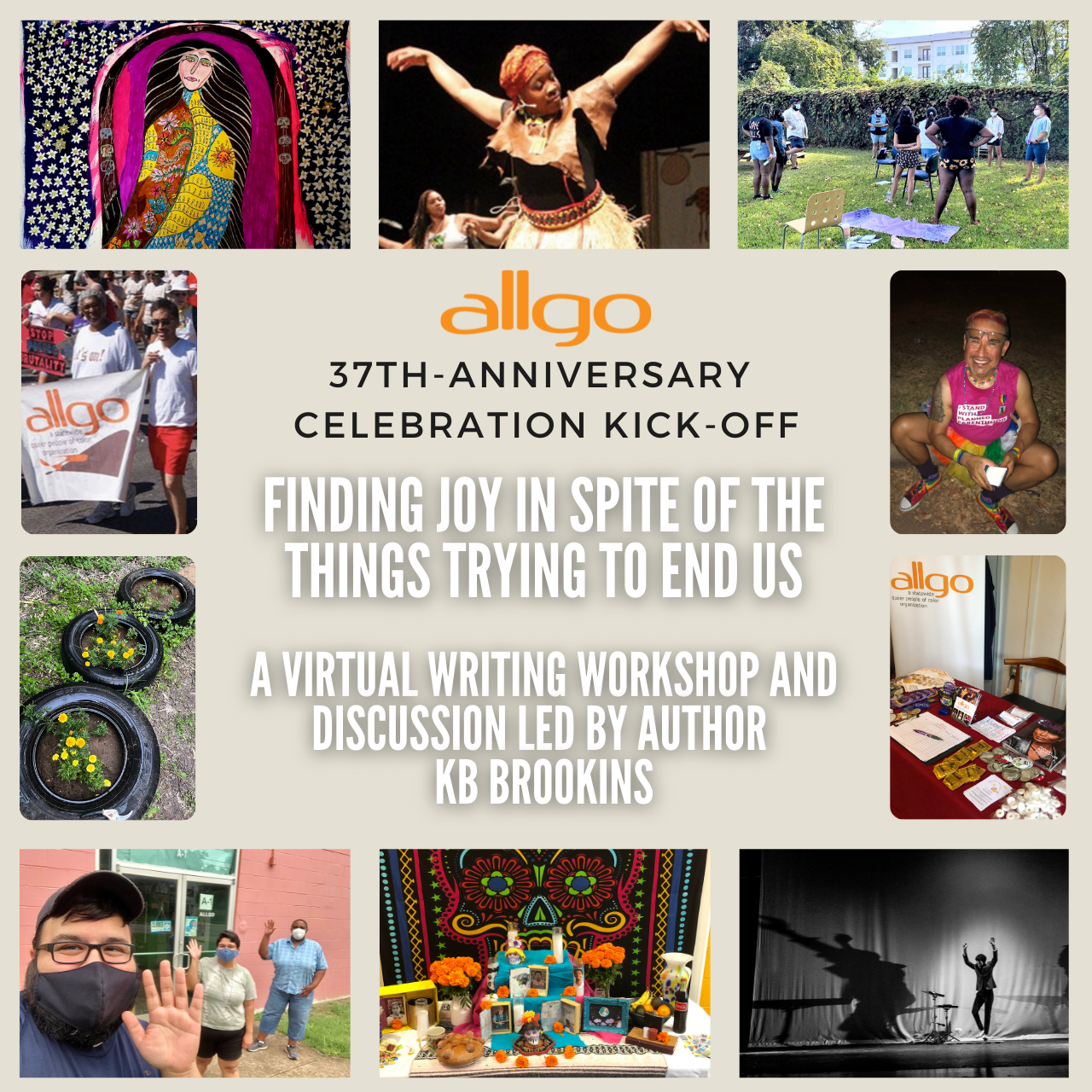 "Finding Joy In Spite Of The Things Trying To End Us"
"Our biggest milestone has been that as an autonomous grassroots queer people of color organization that we have been able to continue to exist and thrive." – Priscilla Hale on allgo
allgo is elated to kick off our 37th-anniversary celebration with a cultural arts event for us to gather and reflect on all that is right and good within ourselves and the vibrant queer and trans communities of color that have made it possible for allgo to survive and thrive throughout the years. 
We are proud to be able to bring in the talented KB Brookins, author of the 2021 Saguaro Poetry Prize winner "How To Identify Yourself with a Wound." They will be leading us in an uplifting workshop with a writing exercise and discussion titled, "Finding Joy In Spite Of The Things Trying To End Us." Bring your favorite thing to write on; may that be your journal, a scratch sheet of paper, or a google/word document, and together let us find that joy we are all so worthy of. 
Join us on Sunday, October 16th from 2 to 4 PM CST as we tap into the joy and creativity that lives within us all. allgo's cultural arts events have proven to be a reliable source of expression, connection, and celebration of all things queer, trans, Black, Indigenous, and People of Color. Come experience that one more time as we begin a joyous new year of life, existence, and hope. 
Our anniversary culmination event will take place later next month on November 12th. Please stay tuned for more information. 
To register for this virtual event, go to: https://bit.ly/findingjoy37