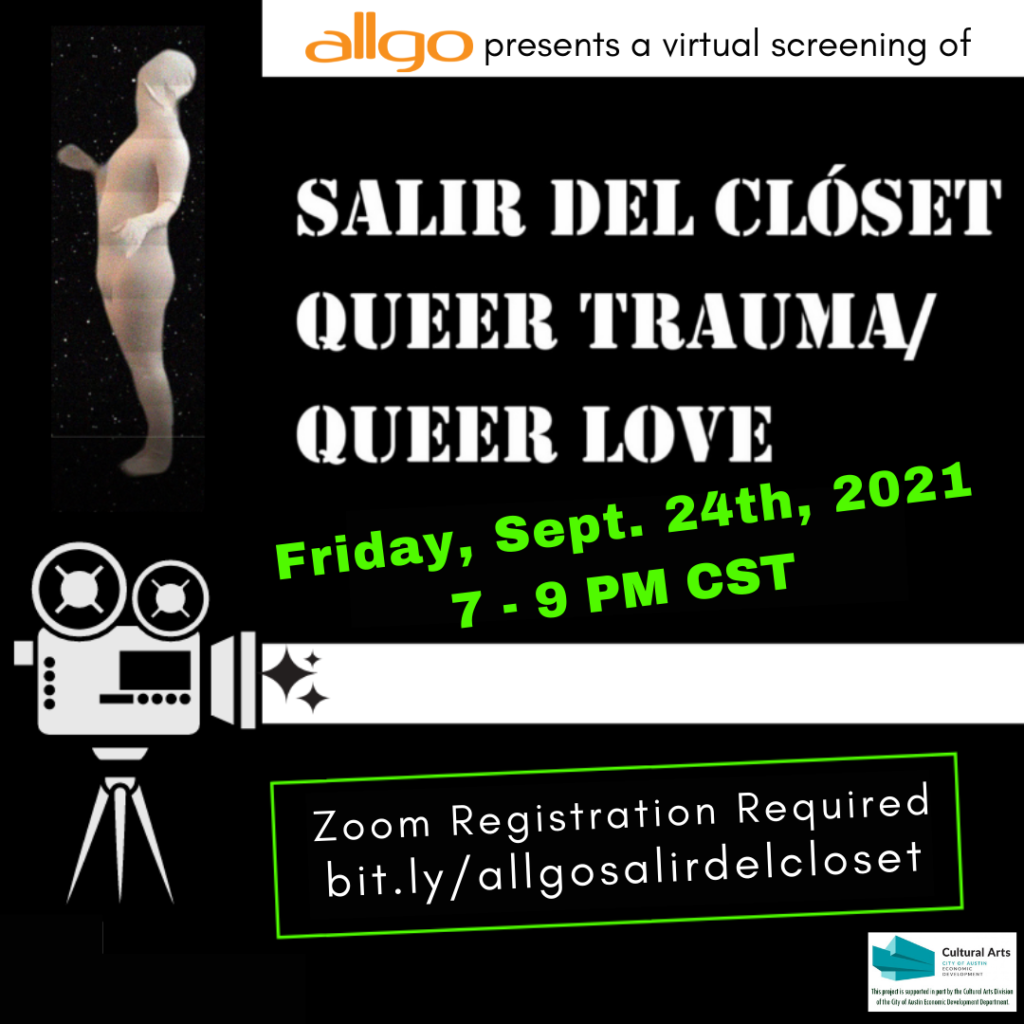 By Bryan Garcia (he/him/his)
"Salir del Clóset: Queer Trauma/Queer Love" follows the story of Jessica Peña, Jesús Valles, César I. ÁLvarez and M. Yoalli Rodríguez as they invite us to take an intimate look at their unique coming out experiences. This powerful adventure in storytelling that director siri gurudev takes us on will leave many with their hearts resonating and emotions soaring as any good film should. What weaves the stories together are a beautiful performance of poetry and an unexpected sci-fi element in the form of a fifth alien character who takes you on their own "coming out" journey.
The film captures the challenges of queer folx who come from a variety of cultural, Spanish-speaking, and immigrant backgrounds. The character's stories are colorful and bold yet with a sense of humor and humility. Aside from the coming out experiences shared, the film tackles subjects like death, grief, depression, anxiety, and above all, hope.
LGTBQIA+ folx and allies will fall in love with the stories of hardship and triumph and catch themselves rooting for the characters as they strive to re-invent and re-enact what they wish could have been and once more "salir del clóset" in an attempt to seek closure, heal, and ultimately move on with their lives. Not all stories have happy endings, but this film will encourage you to continue trying to create a life that you love. Anyone who has gone through a similar story or wants to empathize so as to become a better ally will benefit from these performances.
I am super grateful to play a small part in helping to bring this film to a wider audience and sharing siri's creative vision and offering to queer and non-queer folx around the world. I always enjoy pieces that make me feel a wide range of emotions from happiness, to sadness, to wonder and awe and hope. The alien character woven in between stories made my heart go out and across the stars to anyone feeling alone on their journey of discovering and sharing their sexuality and gender identity. I love how film has the ability to do this and how siri gurudev has been able to encapsulate all of this into just under one hour. It also made me want to see a piece like this in written form someday.
What siri does with "Salir del Clóset: Queer Trauma/Queer Love" is give us hope to open up our futures and not limit ourselves or feel like we have to choose between our identities. Instead, we are given the go-ahead to embrace all parts of ourselves, whether that be trans, non-binary, queer, Latinx, or whatever else we may feel caught in. The wounds we have from our past can heal.
You're invited to join us on Friday, September 24th from 7 PM to 9 PM (CST) as allgo presents a virtual film screening of "Salir del Clóset: Queer Trauma/Queer Love." This online event is free and open to the public. This project is supported in part by the Cultural Arts Division of the City of Austin Economic Development Department. There will be subtitles in English and Spanish as well as simultaneous English and Spanish interpretation for the director's introduction and talk-back portion after the film. You can register at: https://bit.ly/allgosalirdelcloset
You can also watch a trailer here.