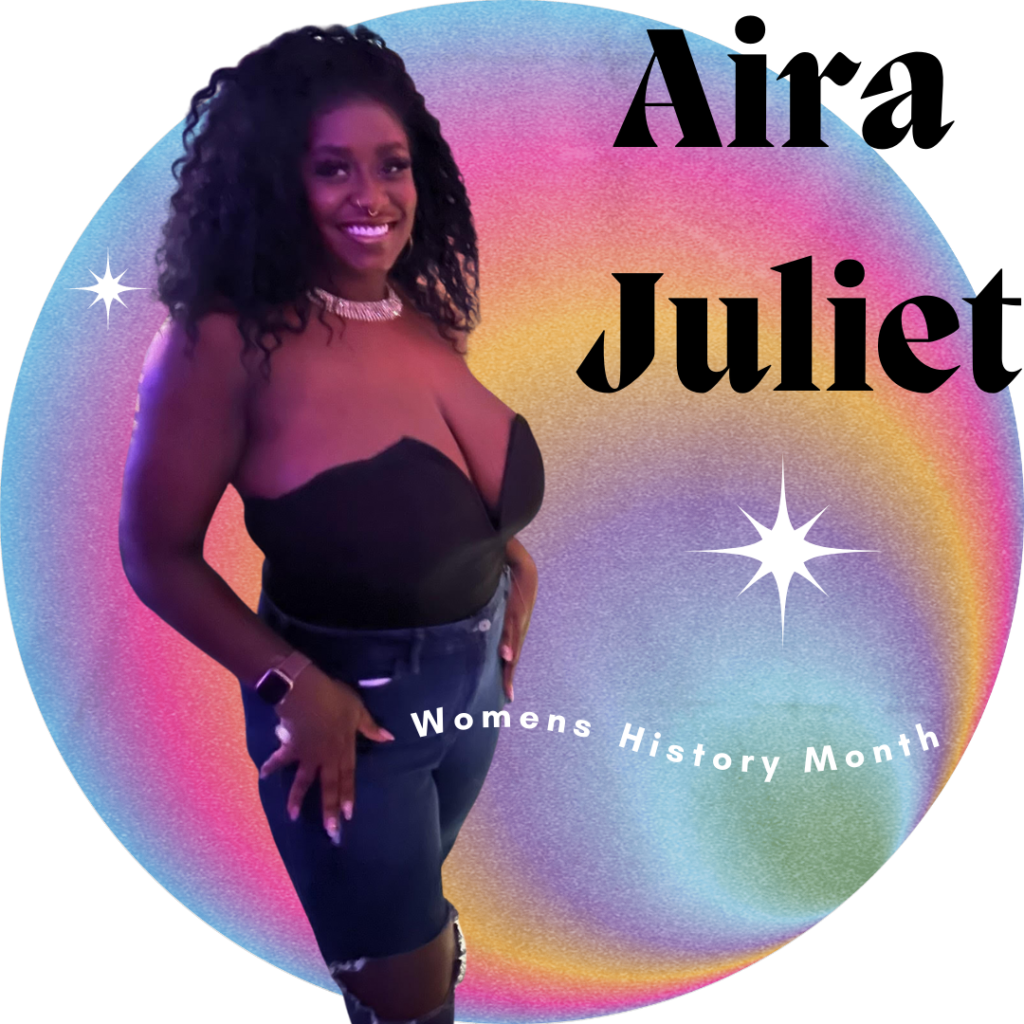 By Tabitha Hamilton (they/them)
This year for Women's History Month we are chatting with some of our favorite local women to hear a bit about who they are, how they are holding space for community, and what they dream about for the future of women. 
First up, Aira Juliet! Our favorite shrek loving, pink cowboy boot wearing trader joe ho who loves silly movies, drinking 3 drinks at once and will never stop talking in a gremlin voice to her dog. 
Aira, tell us a bit about yourself and the spaces you create.
Hello, I'm Aira Juliet! I'm an OG Houston Hottie, double Aquarius and single dog-mom.
I am a corporate worker-bee by day but a part-time comedian, event producer, drag performer, event hostess and karaoke extraordinaire by night. I've lived in Austin for about six years. I am obsessed with the idea of a truly Black and Queer Austin. I have always been in the work of diversifying every place I am in. My goal is to amplify the voices of Black and Queer artists, performers and creators. I love to showcase the multifacetedness of being Black and allowing people the ability to live as their best self.
How did you come into this work that you do?
I started as a performer here in Austin as a way to make friends. I did improv for almost 2 years and then got into stand up. I was very discouraged when I saw that there were very few people who looked like me when I was doing shows. It was the same when I went out. I think it really all just started as an experiment. I was like, I am so tired of not being fulfilled out here and it was like a stop complaining and do something moment as well as "if you build it, they will come." The reality is, I just have always felt on the outside of everything, my family, my jobs, spaces etc and I was so tired of wanting to have somewhere where I can just be me at my best, silliest and most fun.
Are there any role models that have impacted your journey as a space maker?
Issa Rae 🙂 I mean all of my ancestors before me of course but as silly as it sounds, I have been very inspired by the character Issa made in Insecure and the space she created for herself and people. She definitely walks the walk in real life as well and opened so many doors for Black creators.
Is there anything you'd like to see de-gendered (make genderless or gender-neutral, a system or idea that you'd like to deconstruct the gender out of. ie: boys and girls having separate clothing), if so what?👀
I think that de-gendering hair and hairstyles especially in Black Culture would be amazing. I think the boundaries within hair, makeup and fashion are so strict at times. When we look at history, I feel like we used to have so much more freedom.
What do you dream about for the future of women?
Honestly, just a peaceful existence. Soft life. Liberation. Being able to be a woman in whatever sense of that word suits you. Less competition. Learning and loving who you are in the moment. Less explanations, less apologizing for existing. A permanent seat at the table. I love the thought of not really trying to fit in anyone's ideals of what a woman is. The ability to choose.
To keep up with Aira and the moves she's making follow her on social media at @cantbreathewithnoaira and visit her linktr.ee for upcoming shows https://linktr.ee/airajuliet