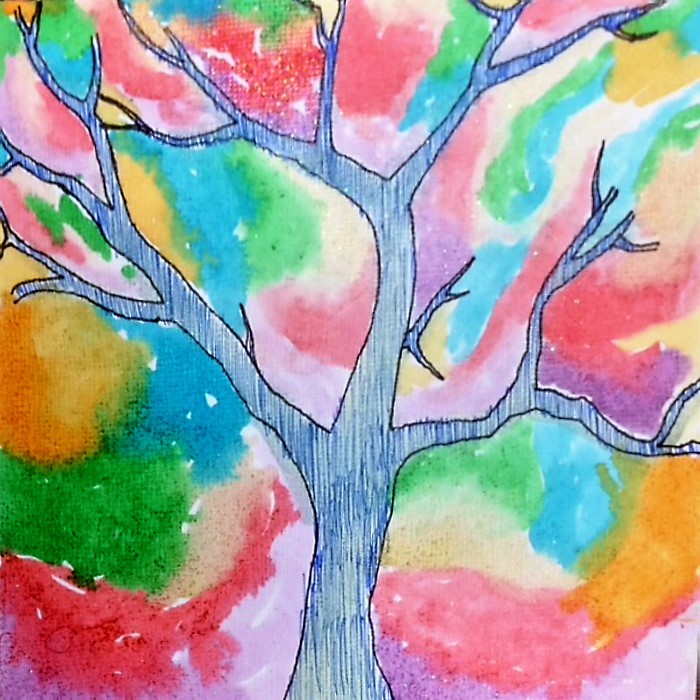 By Bryan Garcia (he/him/his)
We are so fortunate to be part of a vibrant community with a rich history of cultural arts that has long encouraged us to find creative ways to bring our innate gifts and abilities into different areas of our lives. Many of our community members bring skills and talents like dance, visual arts, and creative writing to the table. Throughout the years, allgo has had the privilege of being able to host multiple artists in residence for our cultural programming, which in turn has given birth to memorable performances, productions and workshops. As queer people of color, we have the opportunity to grow and creatively engage in something that could turn out to be a huge source of joy for us and those around us.
Benefits
Deane Alban, a health information researcher on maintaining and improving cognitive and mental health, states that the best thing about creating art is that it isn't restricted to a specific group of people. "Creating art can be beneficial to everyone through all stages of life. It can help children be better students and improve the quality of life for seniors. This is because it relieves stress, encourages creative thinking, boosts self-esteem and provides a sense of accomplishment."

When we become engaged in and immerse ourselves in creative projects or moments, we can be transported to what is known as a state of "flow." Our thoughts, anxiety and worries tend to fall on the wayside for a few moments or longer when we are in this state. Creative engagement can also help us develop the skills we need to concentrate better on details we don't want to miss and increase our attention span to the things around us. It is like a mindfulness "pill" that you don't need a prescription for!

Albert Einstein said that, "Creativity is intelligence having fun." Still, many of us hesitate to give ourselves permission to engage in what could unlock some life-changing benefits. Why is that? This could be attributed to art having a long tradition of classism and the inequalities in the creative industry. This misleads many to think that art is only a form of play for children in primary school or for those who are serious and passionate about it and intend on making their living out of it. This leaves no room for anyone in between who wants a creative outlet. How discouraging! The truth is that art is and can be for anyone. Art can also be consumed and taken in. Queer artists of color need both our financial and emotional support. This is why organizations like allgo strive to create opportunities for artists to create and share their work with the community. I'll mention a great opportunity coming up for Pride this month later on below! 
Ways We Can Create
There are so many different ways to try art! Take a pencil and start scribbling around – you have just doodled! You can also use water colors, color pencils, pastels, or rip apart colorful construction paper and use the pieces to create an image pulled from the depths of your mind! Markers will also work, old-school crayons, molding squishy clay with your hands, and finger paints too (not just for toddlers anymore!). Putting pen to paper and writing stories, capturing vivid dreams, powerful memories, fantasies or your life story is also a great way to create! You can also sing your heart out in your car or perform that scene you memorized from your favorite movie with your living room as the stage. Take a stroll down the galleries of your nearest art museum (most have free entry days) and take it all in. Give your eyes a treat. Get some friends to tag along or make it a solo act! Do what your heart feels drawn to. Video tutorials are available throughout the world wide web, but not necessary. Try to play around with the medium you are using first without any guidelines. Do what comes naturally and instinctually before possibly restricting yourself to the way it is "supposed" to be used.
Art has accompanied me through a majority of my life. One of my earliest memories is that of taking a crayon to draw circles and squares and if I remembered correctly, even triangles on a sheet of paper when I was 2 years old as my 4 year old brother practiced writing the alphabet. I was so impressed with myself and my older sisters made sure to praise my work. Simple shapes, but what thrilled me was the ability to create and bring something that did not exist before to life. It made me realize that art was a source of power, spirituality, and comfort for me and so many qpoc that have come before me. Later on in life, it gave me a sense of control when I otherwise was unable to feel it.
Below are some examples of my play time with watercolors: 
Sexual Health & Wellness
The sexual health & wellness of a queer person of color can be benefited through art as well. It can help us explore both visually and discuss verbally how you view your sexuality and how others view it. When we bring qpoc into the conversation and help rewrite the typical narrative of sexual wellbeing through creating, we can also tap into the healing power of art. This can turn feelings of stigma and shame into ones of enthusiasm and excitement for the fantasies we have and how we can make those into a reality.
With Pride month at hand, allgo is excited to bring you some opportunities for us to come together to explore and be playful as we celebrate our vibrant queer selves and community. In "Reconnect," allgo is partnering with Austin Black Pride to bring you a meditative sound therapy experience led by certified sound therapist and beloved community member g'beda. "Creating Our Pleasure Toolbox" is a writing workshop where participants can create a pleasure tool box using expressive writing to communicate your desires and identify what gives you pleasure. Lastly, we invite anyone who is interested in becoming a part of allgo's "Paint with Pride" Team and helping us fill a paint-by-number Pride-themed mural on socially distanced easels to create a spectacle of a community art piece to email us at wellness@allgo.org.
These events are a few of the many this year around promoting the well-being and vitality of QPOC communities in Austin, TX. For more information about this and other Health and Wellness events, send a message to wellness@allgo.org
Final Thoughts
Tried arts & crafts before and felt like it was just not for you? Try again! Give it another shot. Come back to it later. Come to one of our events and get some support from your qpoc community! No one expects you to be perfect or to be featured in an art gallery anytime soon. Do it because it brings you joy or makes you happy or helps you pass the time. Impress yourself! Art is always there. I know we can inspire and learn from each other as active participants in this world we are creating together.
Have you ever dabbled in art or are you thinking about doing so? Let us know on social media @allgoqpoc on Twitter, Facebook, and Instagram. Feel free to share your artwork for our community to see!