Accessing Pleasure Through Queer Dance: Salsa Edition
December 6, 2022 @ 6:00 pm

-

8:00 pm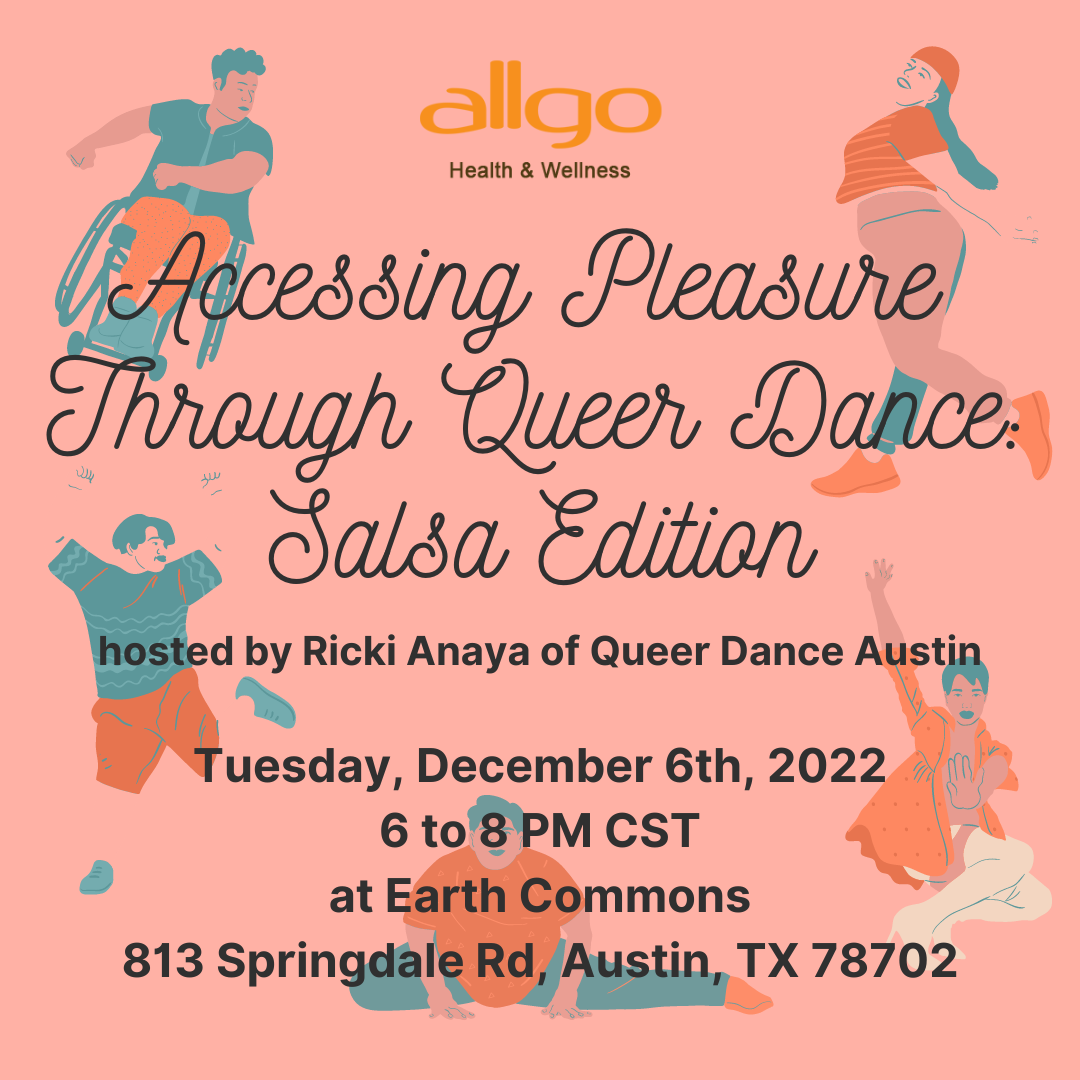 "Pleasure is not one of the spoils of capitalism. It is what our bodies, our human systems, are structured for; it is the aliveness and awakening, the gratitude and humility, the joy and celebration of being miraculous."
― Adrienne Maree Brown, Pleasure Activism: The Politics of Feeling Good
Join us on Tuesday, December 3rd from 6 to 8 PM CST for "Accessing Pleasure through Queer Dance: Salsa Edition" at Earth Commons (813 Springdale Rd, Austin, TX 78702) where we will be learning about and practicing the healing art of salsa dancing! If you have never tried salsa and you have always been curious, this is the right event for you!
While dance has a wide range of health benefits like improved flexibility, minimized stress, reduced depression, and increased energy, it also can be a great way to improve our social well-being and access pleasure. Dance has the power to put us face to face and hand to hand with each other while creating joy and community. 
In the Stonewall bar pre-riots, dancing with the same gender could get you jailed. When the lights would flicker, that would be your cue to switch partners just before a police raid. Queer dance is healing and an act of resistance by creating visibility.
So let's get visible and physical! 
This event is free and open to the public. Light snacks and refreshments will be served. Wear comfortable clothes and a towel, because it might get a bit sweaty! We will be in an air conditioned room and have chairs for you to rest as you need to. All levels are welcome and modifications will be offered. 
In-Person RSVP: https://bit.ly/queersalsa 
Virtual Zoom Registration: https://bit.ly/virtualsalsa
About the Instructor: 
Ricki Anaya (She/They) is an avid dance lover who believes dance is healing for the body, mind & soul. Ricki takes up space as a queer dancer when she breaks the mold and leads in social dance settings, parties and classes to reclaim joy in a heteronormative world. Ricki founded Queer Dance Austin to create community, healing, joy and a passion for dance. Ricki is a Realtor in the Austin metro and loves helping people build generational wealth through homeownership.