By ena ganguly
Can you believe it's almost summer? We are a few weeks away from hitting those infamous high 90s and dry days. I remember growing up, in both my grandmothers' households, there were spreads for summer breakfasts: raw almonds, soaking in water, sliced apples and pears, grapes, mangoes, cucumbers, lychee, toast, fresh juice, porridge, and eggs made to order. For lunch, we would have dishes cooked in various spices, lentils, meat or fish or eggs, something fried, something boiled, raw beets, turnips, onions, carrots and cucumbers. And, of course, white rice. This was an unassuming, simple, routine fare for my grandmothers. For me, it was a feast.
Regardless of what we ate, they would always point at various dishes, vegetables and fruits, declaring, "Eat it! This is cooling." I never quite knew what that meant then, but after doing my own research, I realized that foods that remove toxins from my body and nourish the blood are 'cooling'. These foods are especially important to eat during Texas summers.
Here is all that you need to know about the yummy foods that will replenish and satisfy you and your body this season.
1. Fruits! Fruits! Fruits!
We sweat a LOT during the summer: while we sit in our hot cars, waiting for it to cool, while we stand at the bus stop, or while going on that evening walk. One of the best ways to hydrate is by eating seasonal fruit.
Some fruits are more hydrating than others, so choose melons, watermelons, peaches and strawberries over other fruits with less water content.
To get your fruit intake up, make a fruit salad. My favorite is the kind you can get at your local fruteria:
Choose your favorite fruits

Honeydew melons

Watermelons

Mangoes

Pineapples

Bananas

Kiwi

Apples

Grapes

….the list goes on!

Choose your toppings

Chamoy

Tajin

Mexican Candy

Lime/lemon juice

Sweet yogurt

Condensed milk

Cream

Wash and cut fruits

Mix them up in a bowl

Sprinkle in toppings and mix them in well

Cool, if necessary

Serve with mexican candy and/or in shaved ice!
There really isn't a wrong way to make a fruit salad, especially if it's just for you and your cravings!
2. Drink up!
If you are in the mood to make a light refreshing drink, look no further than this Green Tea Lemonade. Green tea is rich in antioxidants and lowers cholesterol, even when it is served cold. Both lemon juice and green tea are detoxifying as they cleanse the system.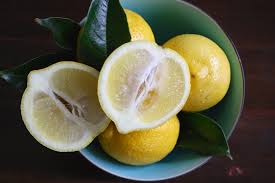 Another great (kids, do NOT try this at home) drink is this intoxicating Pineapple Mint Wine Punch. Alcohol can be drying to the body, but combined with lime and pineapple juice, it's not as potent. You can also make this by substituting the wine for carbonated water to make it bubbly and non-alcoholic! This drink is good for a Saturday brunch, BBQs and cookouts, or even after work, in front of the TV or on your balcony. Enjoy responsibly and leisurely!
3. The Salty & Savory!
For those who love to cook for themselves and others, think about foods such as avocado, salmon, dark greens, and mushrooms to incorporate into meals.
Foods like avocado are rich in good fats, which nourishes our blood. Dark leafy greens have high water content and the body digests them easily, so you can pair spinach with something a little heavier like salmon, for a really balanced meal! If you're not so into fish, try this light and easy to make Watermelon and Arugula Salad.
Mushrooms are also a great source of selenium, which is hard to find in foods that are not sourced from animals. Selenium supports bone health, and by extension, supports the health of our hair, nails and teeth. Also, fun fact, mushrooms have iron and copper which assists the absorption of iron!! Small world.
I really miss the days when I would wake up to find the kitchen bustling with activity: all the people in my family found solace and joy in that space, as did the children who would sneakily grab at any food they could find (me). Even though I don't know when I will witness those memories again, I took away such important lessons on how to eat well when it's hot outside, or simply, when my body is asking to be nourished. I hope you enjoy the beginning of the summer through the food you eat, make and share with community.
If this blog made you want some coctel de fruta or chips and salsa, join us at our Kickoff to Summer Social on Wednesday, May 30th, at 6:30 pm! For more information, visit the event page. allgo is located at 701 Tillery St., Suite A1.