Feeling Good and Enjoying Pleasure
October 7, 2021 @ 6:00 pm

-

7:30 pm

Free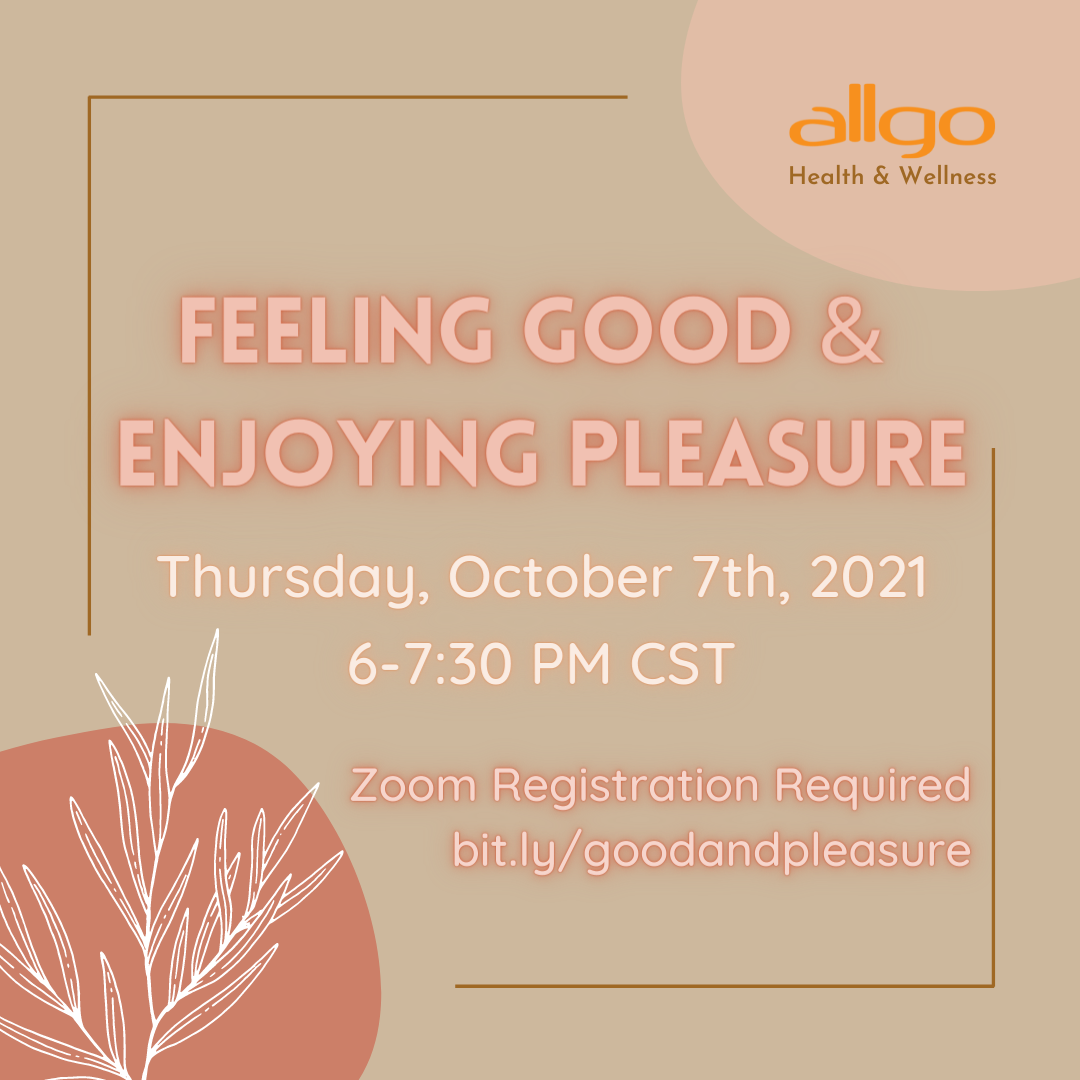 Image Description: The center reads "Feeling Good and Enjoying Pleasure" in light pink with a darker pink outline. Beneath that is the date of the event "Thursday, October 7th, 2021 6-7:30 PM CST." In the bottom left, there is a white leafy plant on top of a brown circle. To the right of that are the words "Zoom Registration Required: bit.ly/goodandpleasure" in light pink with a darker pink outline. On the top right, the orange allgo logo and the words "Health and Wellness" are on top of a light beige circle. The background is light brown.
What feels good and pleasurable at this time? Right now, there are a lot of painful and difficult things going on in the world and maybe even in our personal lives. Even when the world and struggles do not stop, how can we make room for the things that just feel GOOD?
Maybe while you were growing up you did not learn about pleasure without also learning about shame. For many reasons, we are taught to feel ashamed of certain things that make us feel good and allow us to access pleasure. How might we disrupt this shame and accept the wonders of pleasure? How might pleasure allow us to be more comfortable, satisfied, and well? How might it help us feel closer to our full and vibrant selves?
allgo is creating a virtual space where queer people of color communities can have a conversation around this and more. Join us on Thursday, October 7th from 6-7:30 PM CST to talk about the role that pleasure has in our lives and how we might embrace it as a tool for well being. This free online event is one of many this year around promoting the well-being and vitality of QPOC communities in Austin, TX and beyond. For more information about this and other Health and Wellness events, send a message to wellness@allgo.org 
Register for Thursday, October 7th from 6-7:30 PM CST at bit.ly/goodandpleasure