allgo presents: Pleasure Healing!
April 16 @ 6:30 pm

-

8:30 pm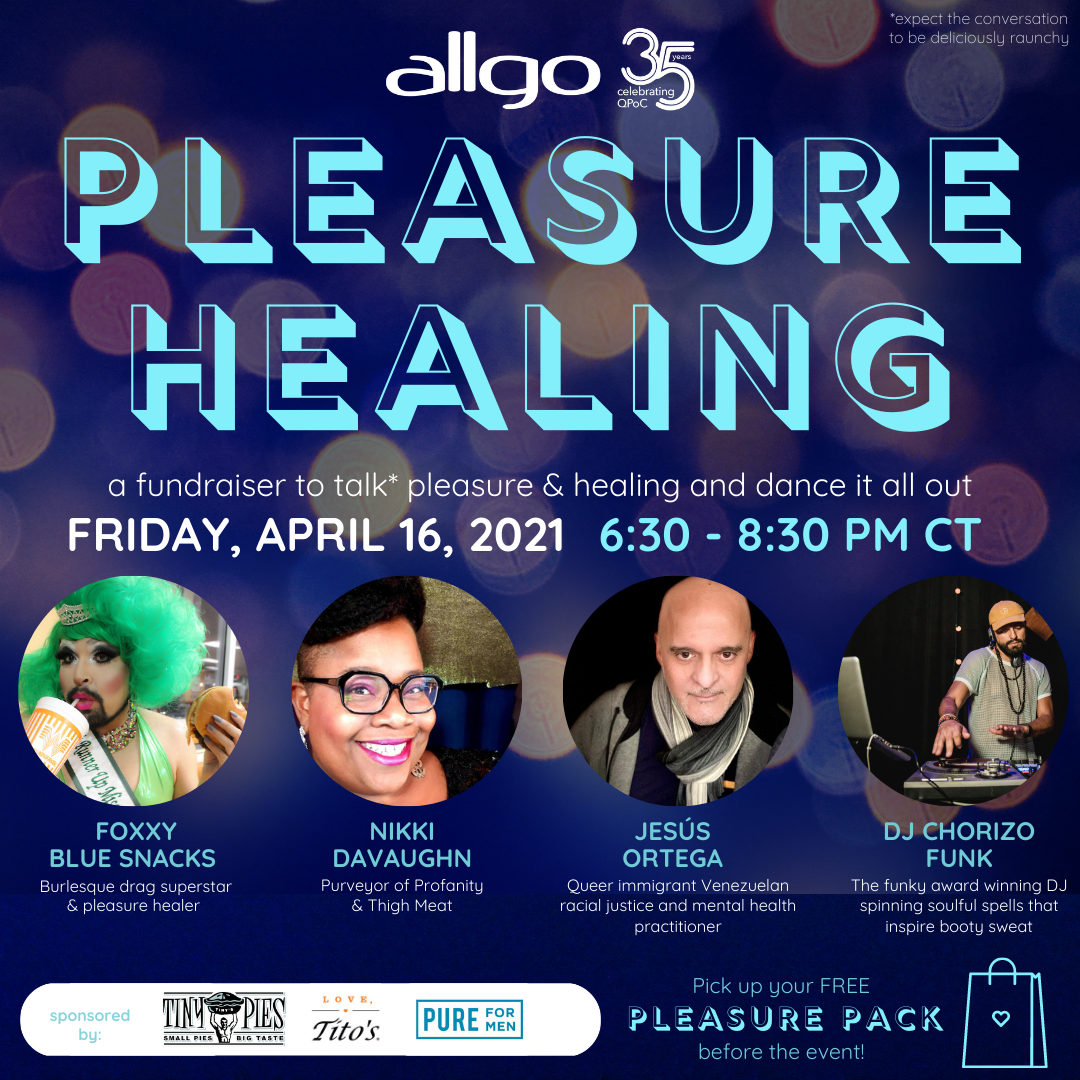 It's been a year! Let's do what QTBIPOC communities do best and access our pleasure to heal. Come connect with us to talk about how we can nurture what makes us hot and happy and then join us while we dance in celebration of our fabulous selves together!
Before the event, make sure to come by allgo and pick up your Pleasure Pack** to play along with us! See details below. If you already are a monthly sustainer: Thank you! Bring a friend and encourage them to become one, too! If you aren't a monthly sustainer yet, this is your chance! 
https://allgo.org/donate/
Pleasure Healing is a 2-part event. During part 1: Join the the exquisite purveyor of pleasure through the profane Nikki Davaughn, fabulous burlesque drag superstar & pleasure healer Foxxy Blue Snacks, and beloved racial justice and mental health practitioner Jesús Ortega in an intimate conversation* on how we access pleasure and healing through heartbreak and rage. This will be a virtual space to speak our truths, ask questions, talk about the real, and explore all the ways we are finding, creating, and longing for pleasure.
Foxxy Blue Snacks will be gorgeously emceeing the whole event as she guides us through multiple pleasure fields!
Part 2's our chance to make some pleasure happen! Show us your radical, queer, loving, pleasure-filled dance moves during a virtual dance party with DJ Chorizo Funk! Texas born and raised, DJ Chorizo Funk, is one of the premiere sound selectors in the Lone Star State. A three-time Best of Austin winner, and the 2020 Austin Music Award winner for best DJ, his deep passion for music and technical skill behind the turntables guarantee a soulful experience for music lovers and dancers alike. We can't wait to dance with you!
*expect the conversation to be deliciously raunchy
**Celebration Pleasure Packs
Non-alcoholic pack options are available upon request!
FREE Pleasure Packs for the first 50 guests include two 50mL bottles (airplane size) of Tito's Handcrafted Vodka or Jack Daniel's Tennessee Whiskey, one bottle of ginger beer, delicious cherry pie courtesy of Tiny Pies*, Pure for Men products, allgo swag, a rainbow party hat, glitter, noise makers, and more!
*to guarantee freshness and quality of product, Tiny Pies cherry pie is only available during the April 16 distribution window.
Celebration Pleasure Pack Pickup Details
Thursday, April 15 from 5-7pm and Friday, April 16 from 11am-1pm
allgo office
701 Tillery Street Suite A1
Austin, TX 78702
Celebration Packs are assembled with locally-provided treats to help you enjoy the virtual festivities! Pickup will be done outside with physical distancing in place. Don't forget to wear your face mask, covering both your nose and mouth.