Letter Writing Party in Spanish by Diversidad Sin Fronteras!
December 9, 2019 @ 6:30 pm

-

8:30 pm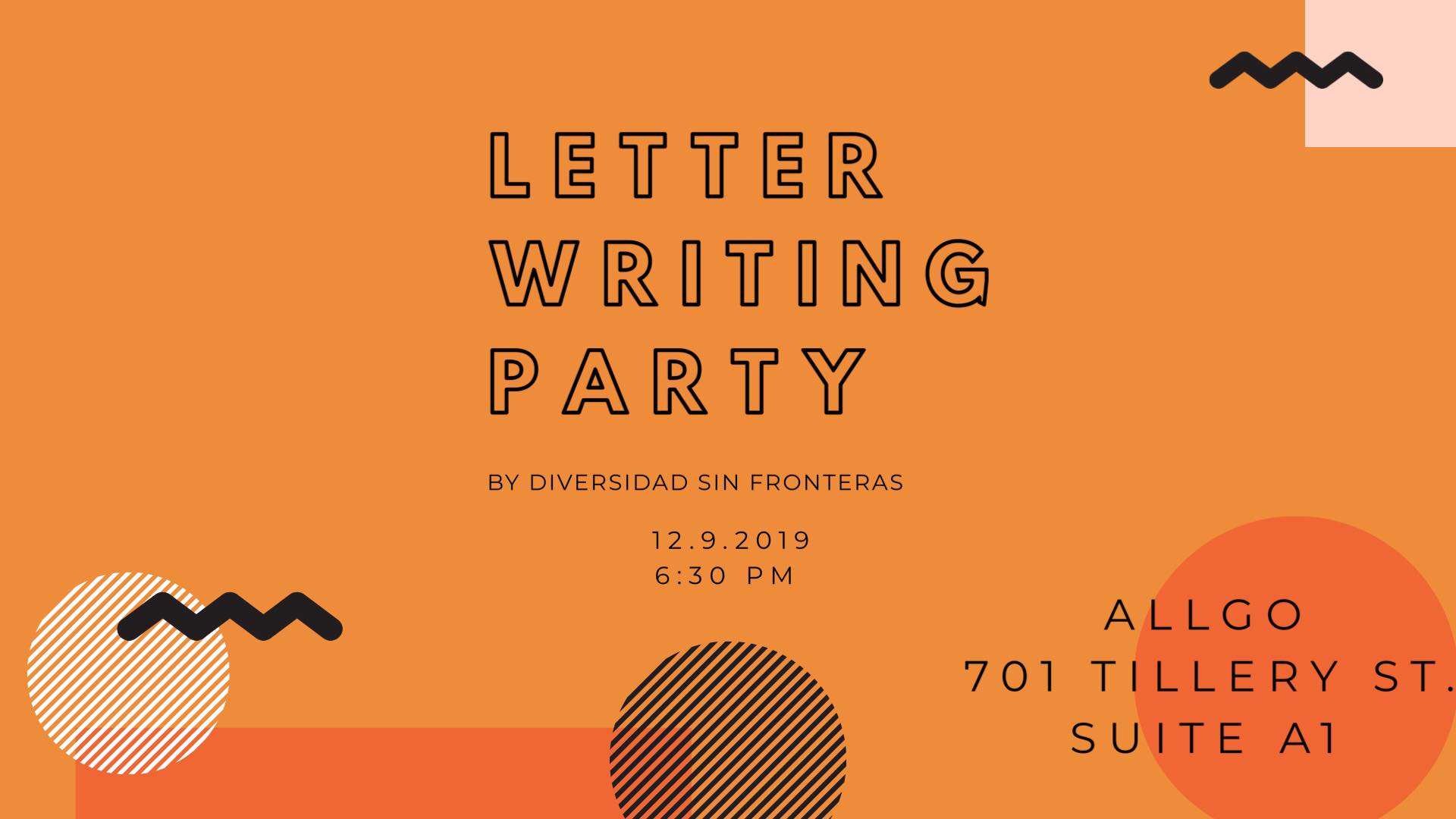 allgo is excited to host Diversidad Sin Fronteras to letter write in Spanish! If you don't speak Spanish, no worries, most people who come to the events don't either. Templates and Spanish-speakers will be available to help, as well as non-text options like drawing pictures.
2 hours away from Austin, asylum-seeking trans women are detained at the South Texas Detention Center in Pearsall, TX. Many have been there for months and are not certain when or if they will be released. Needless to say, this system of incarceration and criminalization is particularly cruel and dehumanizing for trans & queer people.
Diversidad Sin Fronteras invites you to write letters in Spanish to our trans sisters detained at Pearsall to help break their isolation and let them know they are not alone!
Únete a Diversidad Sin Fronteras TX en solidaridad con migrantes LGBTQ mientras escribimos cartas a nuestras hermanas trans detenidas en Pearsall, para romper el aislamiento y para hacerles saber que no están solas.
All letters will be written in Spanish. We will provide Spanish letter-writing templates and all letter-writing materials, as well as have at least one Spanish-speaking person available to help translate other messaging as needed.
Diversidad Sin Fronteras will be accepting donations. This is also a great chance to donate to the commissary of women at Pearsall if you can! $5, $10, $15, $50, all of it helps.
Cash donations accepted at the event, as well as Venmo and Paypal anytime.
Venmo: @DSFTX
Paypal: DiversidadTexas@gmail.com
—————————————————————————–
Diversidad Sin Fronteras Texas (DSFTX) is the local chapter of the national volunteer-run collective, Diversidad Sin Fronteras. DSFTX provides support for LGBTQ asylum seeking folks detained in Texas.
The DSFTX collective is currently focused on 3 methods of supporting the roughly 25 trans women in detention at Geo's Southwest Texas Detention Complex:
1. DSFTX raises funds to provide much needed monthly commissary to the women so they can make calls to their friends, families, and lawyers as well as supplement moldy and insufficient meals provided by the for-profit detention facility.
2. DSFTX also hosts regular letter-writing parties to send mail to the women as a way of breaking the intense isolation and dehumanization inflicted upon LGBTQ detainees.
3. DSFTX organizes detention center visits for queer and trans folks to meet one-on-one with asylees currently detained.
For more information or to contact Diversidad Sin Fronteras TX, email diversidadtexas@gmail.com